Click Any Photo To Enlarge!
Where I'm At: Hawthorne, NV
Campground : Whiskey Flats RV Park
Day Trip : Hawthorne Ordnance Museum
I must admit I've never been much of a military guy (I failed my army physical with crumpled knees and an irregular heartbeat when I was 18). But when I came across a museum with the largest collection of military weapons in the world and free admission — I was there! I was impressed before I even walked in the door…
I can't say I've ever been much interested in remote-control cars or drones, either. However, if you give me a drone that seeks out enemy submarines and blows them up with big-ass missiles, I'm interested. Especially if you give me a huge control panel with lots of gauges and switches…
And if that doesn't float your boat, it seems some weapons have their very own control centers…
If you can't kill em' with that, try cancer!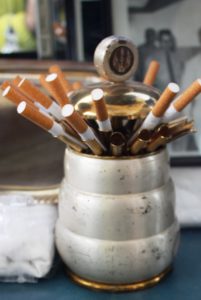 I think there's pretty much a weapon for everyone at the Hawthorne Ordnance Museum…
This one is well worth the price of admission. In fact, I was happy to donate a couple bucks. It's not a huge facility but very, very impressive.