Click Any Photo To Enlarge!
Where I'm At: Pendleton, OR
Campground : Wildhorse Resort
It's been over a week since I've posted. There's a good reason for that — I've been working an average of 14 hours per day since arriving in Pendleton. Therefore, I'm condensing my recent adventures into one post…
A Bump in the Road

The coastal roads in Oregon are rough. I'm going blind. This makes for a lousy combination. I hit a foot-high road hump at a bridge at nearly 50 miles per hour that I was sure would be the one to unhitch me and leave my home behind. Luckily, everything stayed intact and appeared okey dokey during my stay in Pacific City. However, upon my return to Bend, Oregon it became clear there is at least some minimal damage. I now have a "creak" in the rear end. I'm only hoping the cause of this discerning sound is simply my leaf springs sliding out…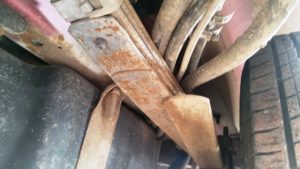 I'll pound it back in at my next stop and hope for the best.
My return to Bend was highlighted by a visit to the High Desert Museum. I began with a guided tour about the pioneers and miners of the Northwest territories. Great stuff, but I was even more interested in the birds of prey and how you can identify these large birds by their flight patterns (I was able to spot a falcon and an eagle on my next drive). I was also quite surprised that, while bald eagles eat mainly fish, golden eagles have been known to take down adult deer and elk!
And then there's the prehistoric sawtooth shark.  Here's where grinding your teeth in your sleep becomes a problem…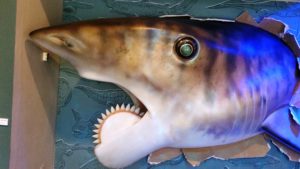 The Rolling Hills of Eastern Oregon
I could not believe I would actually fork out $500 for two weeks at an RV park! Granted, on two occasions, I have actually paid more — but that was because I was stranded at an expensive California park while waiting on parts for a repair. This is the first occasion I'd intentionally paid this much! The only way I could justify it was because I'd be getting paid good money to work. Also, there simply weren't any better options. I could either walk to work or pay the difference in gas.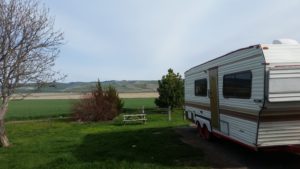 But how's this for a yard! Site 92 at Wildhorse resort is a corner lot with a picket fence (not pictured) and rolling hills as far as the eye can see. It's fun to watch trucks slowly make their way down the hills from Idaho. And, while the campground amenities are very basic (there is access to the hotel's heated pool and workout room), this one easily makes my Top Ten list for the spectacular views alone.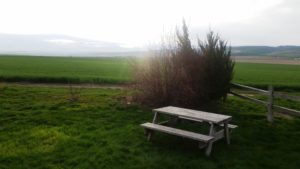 The Windstorm
Being only a couple hundred yards away from the casino, I thought it would be a great idea to walk to work. This would be shortlived, however, when a windstorm nearly swept me off my feet after my first 12-hour shift. With sustained winds of 40 miles an hour and 80-mile-per-hour gusts the entire night, there were times I actually thought my home would blow over. I slept less than one hour and literally got seasick from the extreme rocking. The storm lasted nearly 18 hours as I worried about the potential damage the next day at work.
After a fifteen-hour shift, I found that three out of four stabilizers had been rocked one inch off their foundation. I tightened them up and hoped for the best. Somehow, ole' 48 Ugly managed to get through the ordeal unscathed! I couldn't be more proud.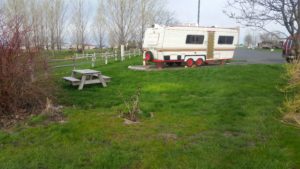 Long Hours, A Tough Gig
Wildhorse is a tough place to work until you make the "A-List". Despite being a top-notch poker dealer with more experience than nearly every dealer here, I don't have seniority. This may or may not be tough to come by. I'll have a better idea after the next tournament in November. I'd love to make this a regular gig, where the November and April events could keep me in the Northwest for 5 months, I simply don't know if I can justify it yet.
Health
I literally have 5 pairs of prescription glasses. Due to my RK surgery (pre-lasik) many years ago, my corneas are now a disaster — my eyes can't dilate properly and my vision fluctuates 3 points per day.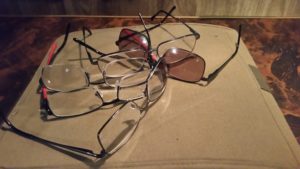 Am I really getting my corneas replaced? I'll be en route to Vegas soon to find out…