Click Any Photo To Enlarge!
Current Venue: Las Vegas, NV
Campground: Thousand Trails
On the Right Track…
Despite a year of disrepair — broken vehicles, broken Jeepers, broken RiverCat — it still seems things are falling into place! I feel I'm on the right track.
I played very little poker this year. I eliminated small buy-in tournaments and focused more on "satellites" into big buy-in Main Event tournaments this fall. On my first try at Thunder Valley Casino in Lincoln, California, I qualified for a $1600 buy-in Main Event. Recently, I qualified for a $1000 satellite into the $10,000 buy-in World Poker Tour event at the Bellagio…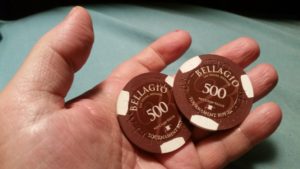 I fell short of the Main Event in this one. However, I'm qualifying for these events at a fraction of the actual buy-in — and covering the cost in cash games. I'm going for the big time AND covering my business expenses in "cash" games. I certainly plan to shoot for 4-5 more Main Events in 2017.

Enough Poker, It's Holiday Season…
Last night I enjoyed a lovely date at The Magical Forest. Who knew there was such a thing as Christmas in the desert?! Fortunately, there is. I also consider myself lucky to share this with someone enjoys the holiday season. You can catch a glimpse of my friend leaping into my Christmas Tree Video…
There was a beautiful full moon this evening. Everyone seemed mesmerized by it.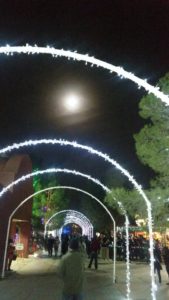 In an age where folks seem to think laser lights are a replacement for Christmas lights, I was absolutely delighted to find the one tree with good old-fashioned big-bulb Christmas lights. Honestly, where did these ever disappear to? I present to you, the dinosaur of holiday decoration…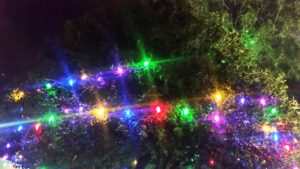 Our evening began with some friendly competition at mini-golf and a giant slide race — which I managed to win by overpowering my opponent. We then enjoyed the Christmas-themed 3D haunted house and a leisurely stroll. But hands-down, the main attraction in the Magical Forest is the train!
With one of the two trains arriving at the station every 5 minutes, the lines moved quick. Despite the efficiency of the staff getting folks on and off the ride, it moved at a very relaxing pace, allowing us to easily take in all the wonderful colors of the holiday season. We were so enchanted, we rode it 3 times! We maybe could have hopped this empty one at closing time but thought better of it…
The Magical Forest is a production of Opportunity Village, a not-for-profit that provides vocational training for people with severe disabilities.
It sure helped me get in the Christmas Spirit. So much so, I even posed for a rare cameo appearance on my own website. Get a good look at Fat RiverCat…I intend to lose 30 pounds next year!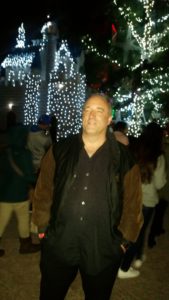 Merry Christmas!