Click Any Photo To Enlarge!
Current Venue: Las Vegas, NV
Campground: Thousand Trails
You rarely see more than a sprinkle or a spit in Las Vegas, but when it actually does rain…
An hour later I nearly got stranded a couple miles from camp as the flood channels began pouring over the streets. With as many flash floods as there were in the valley yesterday, it's amazing there were only a handful of rescues! I'm going to enjoy the wet weather while I can — there's only a couple more days of it…
There aren't many amenities at my Las Vegas home base these days.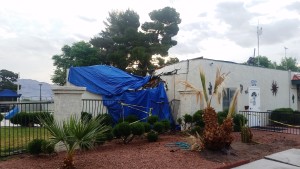 After a wind storm planted a tree in our clubhouse a few weeks ago, it was pretty clear our activity center would have to be rebuilt. More bad news followed, however. Our pool's foundation was cracked. And the structural integrity of our welcome center, office, and store was also compromised. The entire hub of this campground will have to be demolished!
Not having access to any amenities, it's as good a time as any to set up camp in the back row against the wall. With only a quiet retirement community a fair distance behind my campsite, I'm able to set up my nifty 10 x 10 popup tent and create a cozy little yard for myself. With no RVs directly behind me and plenty of space, this is the perfect spot to do some home improvement projects.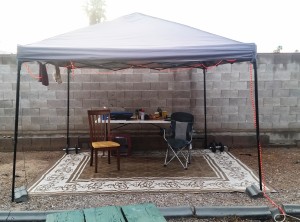 So I've decided to settle in for the summer! Work starts on May 15th, and it's time I dig in and get things done during the next 6 weeks rather than travel. And where will I go at the end of July? To seek even warmer temperatures on a 5-week tour of ARIZONA! Well, it's certainly not the first place I'd choose to spend the entire month of August, but it's largely a business trip.
I suspect, much like my last business trip to Fresno, parts of the journey will be an absolute blast. But I've already made a decision that my fall adventure will be spontaneous fun only — no business!