Click Any Photo To Enlarge!
" * " Definition on Common Terms Page
Current Venue: Las Vegas, NV
Campground: Thousand Trails
There's a local television ad that always makes me laugh. It's a weatherman that leads off with, "I've always had a fascination with Las Vegas weather…"
The punch line, of course, is that there IS no Las Vegas weather. In all the time I've spent here, I've seen little more than a drizzle only once. The closest thing we have to weather is wind storms. Our clubhouse just got the worst of one…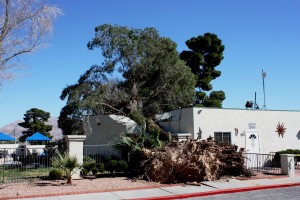 It appears there will be no activities for awhile. No church, free coffee, bingo, or Direct TV on the big screen. The pool may not even reopen for a couple weeks.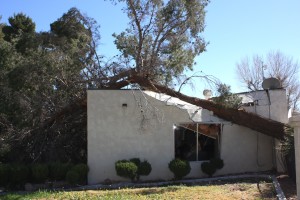 But I'll hardly miss any of it. I'm BUSY! I'll only have 2 days off before my business trip to California, and I'm way behind. This will be my first trade show in years, and it's been quite a learning experience, already.
But this crash course has been good for me. Not only will it help prepare me quicker for Quartzsite next January, but it also made me realize I'd be in over my head right now if I tried to do too many shows. I've decided over the next couple years I'll only focus on 2-3 traveling gigs. It only makes sense that while I'm spending the most time in Las Vegas, that I devote more time on events here.
My most fantastic revelation is that I don't NEED to work so hard when I'm traveling! With my Thousand Trails membership my living expenses are exactly the same here as they are down the road. My only extra expense when I leave town is a little bit of gas money. Now that I've upgraded my membership, I have over 40 campgrounds throughout California, Oregon, and Washington — many within a couple hours of each other.
My upcoming trip to Fresno was originally intended to be an indefinite 3-month excursion into Northern California. This may turn into a quick SoCal journey right back to Vegas to work for a few days. If that's the case, I may be right back on the road in April…
I'm getting itchy.