Click Any Photo To Enlarge!
Current Venue: Blythe, CA
Campground: Mayflower County Park
Considering the small size of Mayflower, it's astounding how many regular activities take place each day. Dominoes is a popular one, with at least 3 or 4 games taking place outdoors when the weather is decent. With no TV reception, I was pleased to discover the "sports zone" — two Class-A's parked side-by-side, broadcasting important football games on their outdoor entertainment systems via satellite. Large campfire gatherings begin as early as 3 pm — where campers enjoy cold beverages, share stories, and joke around until well after dark. None of these activities are private — all are welcome!
On Tuesdays and Thursdays it's lawn bowling. This begins at 10 am sharp. I love how retired folks set a time for something, and then actually show up at that designated time! This way, the fun gets started right away…
Unlike bowling balls, "lawn balls" are about the size of a softball and are weighted on one side. This means if you roll the ball straight, it will eventually curve towards the weighted side — important to know. Each team gets four balls, which are marked by little emblems. In this grouping we have the green team, white, and "cats."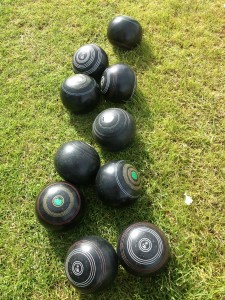 How appropriate is it that The Ramblin' RiverCat ended up on the "lions" team one day and "cats"  the other?! No matter, I was still a very mediocre lawn bowler. Back to the action…
The object of the game is to get as close to the white ball as possible. Much like horseshoes, your partner is at the opposite end. When you're rolling, your partner will "spot" you, giving you a target to roll at. This can be especially important when the lane is cluttered with other balls…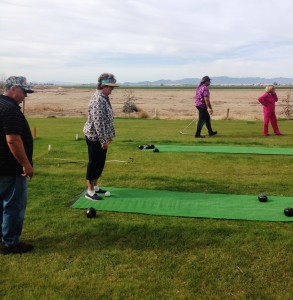 This can become a very strategic game. For instance, when an opponent's ball is laying directly on the white ball, the only thing that can be done is to break them up. This is pretty much the only thing I was any good at. Some of these Mayflower players have more of a finesse game…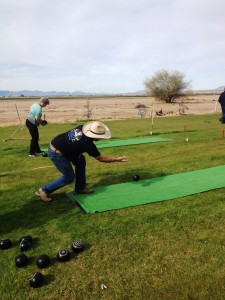 After every team has rolled, you tally up the score…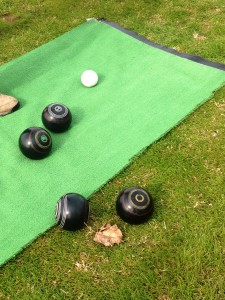 In this round the winning team will score one point, getting a single ball closest to the white ball. However, if 2 balls are closest, it is scored accordingly. A 3-pointer is pretty rare.
I'm happy to say my second contest was a victory. While my partner racked up the points, I played an important defensive role when we needed to "bust things up."
Of course it's not about winning or losing. It's about enjoying awesome weather, having some laughs, and rolling balls down a perfectly-manicured lawn in the middle of the desert.