Click Any Photo To Enlarge!
" * " Definition on Common Terms Page
Current Venue: Spring Branch, TX
Campground: Spring Branch RV Park
Visiting: Cibolo Nature Center in Boerne, TX
Recently Updated:  About Me
Wanted:  A good used 205 75 r15 trailer tire for 48 Ugly*
This scene is becoming all too familiar…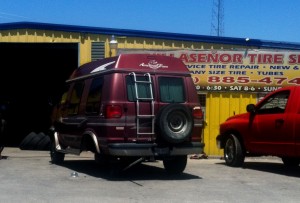 Memphis Red is having two more used tires replaced.  She also needs an oil change, an alignment, new tires, and a new paint job.  I'll certainly get the oil change in a couple days…
I think Memphis Red may be preparing for her last journey.  With easily $2500 of needed improvements in the near future, I just can't see me doing it.  Here's why:
1.  Power : I simply don't have enough for towing on steep grades.  The alternate routes I'm forced to take sometimes cost a good deal of unnecessary expenses.  I always dread the day I blow a transmission or a motor.
2. Cargo : It's not an ideal cargo van, which is what I need.  Even though she's eight foot tall, I'd be afraid to pile things too high for fear of being crushed should I slam the brakes.  Lengthwise it's very short, also not ideal.  The shape, cabinetry, and windows can also impede things when I'm trying to load.  I need an actual cargo space for my future business productions.
3.  Squeaky Belt : It's a factory defect and there's nothing you can do when it gets wet.  I've replaced pulleys and belts numerous times with only minimal success.  I can put chalk on it after each rain, which only works until the next one.  Years of these occurrences has led to the demise of the sentimental value I once had for Memphis Red.  It's just getting to be that time…
Wanted : A good used 205 75 r15 tire.

It's amazing how difficult it is to find a 205 75 r15.  If you have 1 or 2 laying around, just e-mail them to me!