6:20 am     Today is a full day of preparations for my departure tomorrow and it's snowing.  According to my weather widget it's a "mist."  Well, I'm looking out the window and there's about 2 inches of white, fluffy "mist" on the van.  According to The Weather Channel, it could snow until noon.
I hope this is nothing to be concerned about tomorrow.  According to the weather reports in Northern California, it appears they're expecting some rain/snow mix today but pretty clear tomorrow before some rain blows in on Wednesday.  I should be just fine.  Even in some of the higher elevations I'll be driving in the morning should be cleared up by the time I pass through.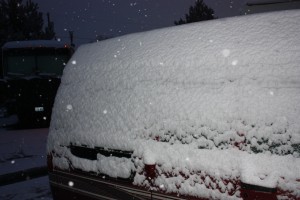 8:25     Went across street to the Peppermill Casino for coffee and phone calls.  The snow does change my plans a bit.  Instead of changing the oil on the scooter, I'm just going to load it up, instead.  Only now it's wet.  Better to do it sooner than wait for more snow to accumulate on it, I suppose.  Come to think of it, everything I had strewn about my lot in preparation for The Journey is now covered in snow.    I should go out and recover these items, as well.  Then I think I'll come back in and make a couple phone calls about this Highway 89 to Dunsmuir before I head out shopping one last time.  My handyman comes at 2 to work on some miscellaneous items.  Then we hitch it up!
And because of the snow, it's safe to say quite a few things are going to be packed haphazardly and I won't be doing any more cleaning or waxing.  Believe me, I'm not crying about any of this.
9:35     Loaded bike and cleaned up the "yard."   I basically bagged everything up and stuffed the van.  I don't see anything thawing out until I go shopping and warm up the interior.  My neighbors just pulled out on their way to Redding.  They confirmed that, if I don't mind driving further, 89 is probably a better option than 44 to save my transmission.  This will save me a phone call.
11:36    I went to Wal-Mart and then filled my gas tank.  It's the first time ever I've seen a hundred-dollar tab at the gas pump.  Interestingly, my credit card was "partly frozen."  It didn't work at Wal-Mart or at a convenience store, but just fine when I spent $100 at the gas pump.  I just got off the phone with fraud protection.  I guess it's wise to let them know when I'm bouncing to another state, as well, so my charges don't look "irregular."  My purchases today?  Automatic transmission repair fluid, slime for the sway bars and hitch, fix-a-flat, and other related goodies.  Robin texted me to let me know he'd be over at 1:00, instead.  Perfect.
12:25    As I finish lunch I'm realizing there may be a distinct possibility that nobody will be sending me off!  I mean, this is sort of a big deal — years in the planning!  And while the possibility of someone here celebrating my new journey seems remote, it seems even less likely that a family member might call and wish me well.  That's the sad truth of the matter — despite the thousands of dollars I've spent going home for weddings and holidays.   Oh well.  Perhaps this Journey is not meant to be shared with those that are supposed to be closest to me.  Although I do have Jeepers…
It's nearly 1 pm and it's still snowing!  Thus, I'm not totally depressed or bitter about the lack of farewell wishes, but "melancholy" instead.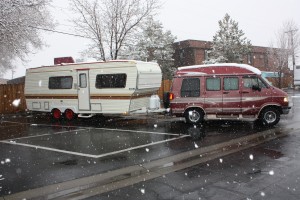 4:20     Hitched!  And yes, it's still snowing.  Everything's unhooked except electric.  It's a good thing I had Robin drop by.  There was corrosion that needed scraping in order for some of the lights to work.  We got everything done in pretty quick order, though.
One thing I'm extremely pleased with is my backup camera.  Initially when I looked at the monitor I was a bit concerned because the ball hitch dominated the view.  I wasn't sure how it would look once I got close to the trailer hitch.  But things came into focus quite nicely.  I daresay if I hadn't gotten out to take one "make-sure" look, I might have centered it perfectly in 30 seconds!   As it was, I backed to within 1 foot, got out, pulled it forward once, and then backed it right under darned thing.
So, what's left?  Wash these dishes with my handy-dandy water pump (first time), secure some pictures and fine china, check my mail for a debit card, and then take myself out to eat.  The snow really put a hitch into putting things away in an orderly fashion — the van's quite a mess.  The trailer isn't spic and span, either.  But I surrender — it'll just have to make do!   The first time I settle into a campground a couple days I'll reorganize everything.  That sort of thing is "fun" at a campground, right?!
5:44     One of my tires is low on the van.  Unbelievable.  It never occurred to me to get that checked!  Me and a neighbor, a former truck driver, both realized there's nowhere to stop for air for nearly a couple hundred miles in the direction I'm heading.  I'm going to have to do a bit of backtracking to get this done, and then hope I don't run into morning traffic.  I might set the alarm for real early to accomplish this.
 Next Story: The Journey Begins