Click Any Photo To Enlarge!    " * "   Denotes A Definition Available on the Common Terms Page
Current Venue:  Tempe, AZ (Phoenix Area)
Campground: Tempe Travel Trailer Villa

 I recall many years ago when I was traveling full-time with my girlfriend we'd explore our new surroundings by bicycle.  We had an absolute blast!
This was before I became a scooter enthusiast for several years and found myself in the Phoenix area with a broken-down moped.  Until recently, when a player at the poker club tipped me a brand-new bike, I forgot how much fun it was to explore the neighborhood via this method of transportation.
Today I rode just a few blocks to find this little gem — scrap-metal sharks…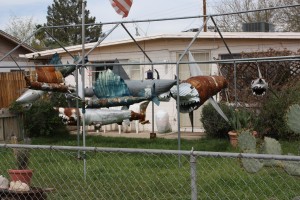 Notice the robots in the back yard…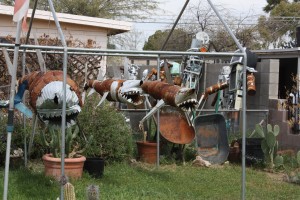 In the driveway is a sign that says, "Robots for Sale."
Another neat thing about riding bikes, if you ride slow like me, is that you can actually hear what's going on around you.  The whole experience is sort of a meditation if you do it right — very relaxing.
But Crash-Test Dummy* isn't out of the picture quite yet!  While I've enjoyed rediscovering bicycles, a scooter has quite another set of advantages — and I'm really starting to miss mine.  I can't justify spending $100 to have work done on the carburetor with no certainty that will do the trick.   So, at this point either a neighbor will purchase it for $100 and I'll buy a used one in Vegas this summer — or I'll coax a neighbor into fixing it at a substantial discount.  We shall see.