Click Any Photo To Enlarge! " * " Denotes A Definition Available on the Common Terms Page
Current Venue:  Las Vegas
Campground: Thousand Trails Las Vegas

We're really going to like it here.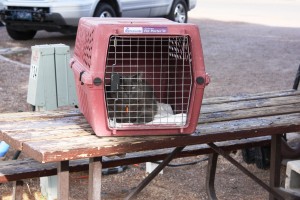 I read some mixed reviews on-line but I sensed they were largely from the high-end motorhome society who feel the Las Vegas park simply doesn't measure up to other Thousand Trails resorts.  I'm glad I went with my instincts…
I think it's beautiful.  And it turns out it's in an even better location than I remember it.  Last year Boulder Highway was a nightmare due to tons of construction.  Now I'm realizing how convenient it is to several casinos and lots of shopping!  I have a nice little setup…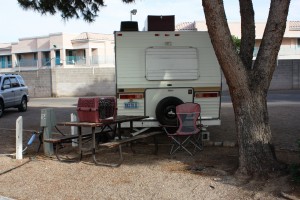 The pool was extremely popular over Memorial Day weekend…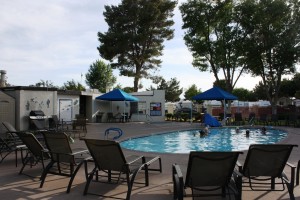 And here's one of my favorite trees…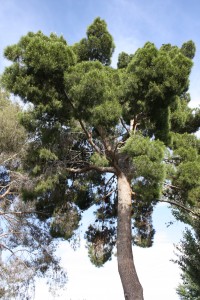 Now see if you can spot the difference between my row…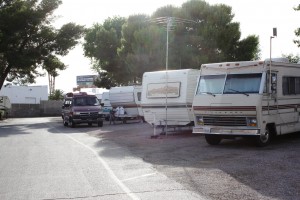 And the one directly behind me…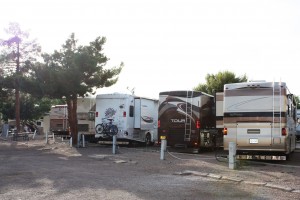 Hmmm…
Truly, I don't mind the segregation.  I'd rather be amongst the "classics" than belittle 48 Ugly* amongst the behemoths.
My neighbor makes his living selling membership upgrades.  The regular TT membership is something like $3500 plus $400 per year dues.  This entitles them to stay at any of the parks in their region for free year-round.   They can stay at any one park 3 weeks at a time (and can come back after one week).  You can also seek out bargains from members trying to sell theirs — which is commonplace when spouses die.
That got me to thinking — if I managed to find one under $1000 it would pay for itself in less than two years, easily.  The part that bothers me is that you're limited to certain regions unless you upgrade.  It's  worthy of some research at a later date.  For now I'll just enjoy the amenities as a non-member.
My challenges this leg of The Journey have been all about the hoses.  My long-time sewer hose finally broke up in Cal-Nev-Ari.  Also, a new county ordinance requires a rubber "sewer donut" (not for human consumption) be attached to the end of the hose so that parts aren't touching for some reason.  Additionally, my water hose burst!  I'm thinking the water pressure is extraordinarily high here (I remember reading that in a review).  So today it's off to the RV store across the street for a new water pressure regulator.
I begin work at the World Series of Poker on Thursday.  I'm anxious to see how well my 2:00 start time will work.  Last year my schedule was not conducive to working on my projects because of the odd overnight hours.  This year I'm hoping for some "normalcy" and plan to get a lot done  during my 5 hours in the morning.
I'm eager to jump in and get started.