Click Any Photo To Enlarge! " * " Denotes A Definition Available on the Common Terms Page
Current Venue:  Kanarraville, UT
Campground: Red Ledge RV Park
Visiting:  The Narrows in Zion National Park
Zion National Park.  First, the not-so-good.  The transit system and gate fees before entering the park are very, very confusing.  If you park inside the gates it's $25, good for seven days.  There's a $12 walk-in pass, but is IT good for seven days?  Who knows.   Is parking inside the gates really limited?  Nobody really knows.  After all my efforts, I decided to park outside, taking the free shuttle to the gate, and purchasing the $25 pass so there's no hassle when I go to Kalob Canyon (North Zion) in a couple days.
Once inside, you find a very organized shuttle system.  Hundreds of people are boarding at each stop every few minutes.  I can't imagine the bumper-to-bumper traffic before these buses came along!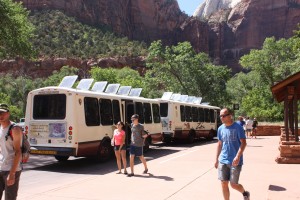 My first trail was to Lower Emerald Pools.  It was here that I met a gentleman who left Pennsylvania a couple months without a penny — to see how far he could get on the kindness of others.  Well, after making his way cross-country to San Francisco, he took his $250 in donations and booked a flight to Hawaii!  He then managed to raise enough funds to get back.  He then convinced a group of campers here at Zion to allow him stay with them.  Quite a feat!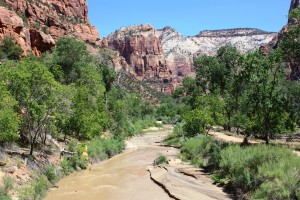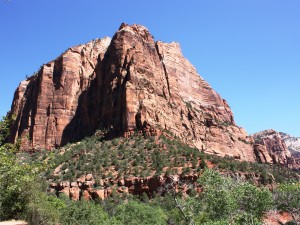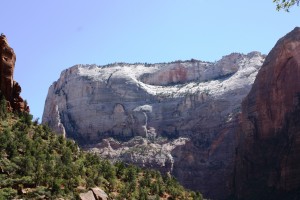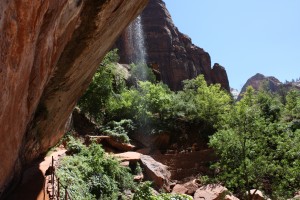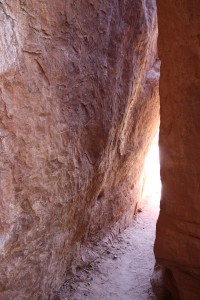 My next stop was "The Narrows."  Not in a million years would I have imagined this scene…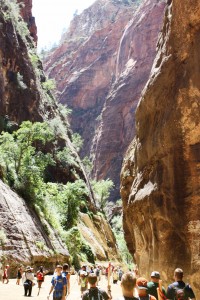 Hundreds and hundreds of people purposely walking straight up a river with big sticks — as if lemmings out to sea.  It's still kind of surreal in my mind.  I realize the motivation is that you're in a beautiful slot canyon.  But still, doesn't it seem weird?  Well, if everyone else is doing it…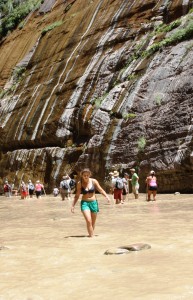 But I was only one of a few fools without a walking stick or a tree limb.  You see, the river is muddy.  You can't see all the large, loose rocks under foot — nor the quick dropoffs.  If somebody had told me that before!  I realize that most of the waters are ankle-to-waist deep, but if I topple over, there goes my Canon Rebel and my iPhone.  Thankfully, a returning hiker quickly offered me his.  He assured me I'd need it.  I gratefully took this gift and passed it forward on my return…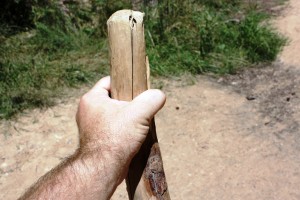 People of all ages got in on the fun…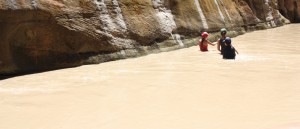 And the going is very, very slow.  This activity looks like a strange version of rock-climbing.  The "trail" is said to be 8 hours round trip and, at some point, the canyon becomes cave-like with nearly 3000-foot walls, I believe.  I'm afraid I didn't have 8 hours to invest on this day — another time.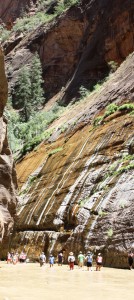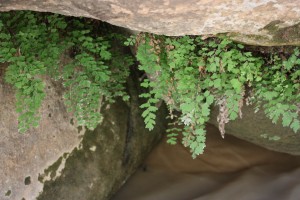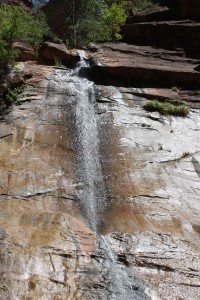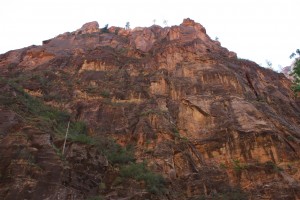 It's a $100 fine to feed the wildlife here.  The squirrels here seem accustomed to it, however (and no, it wasn't me)…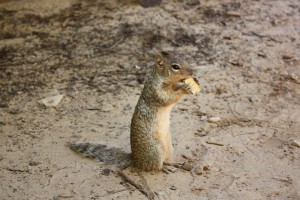 On the way home I got caught again.  A tourist trap.  I can't resist them!