Current Venue: Pueblo, CO
Campground:   Haggards RV Campground
Visiting:  Royal Gorge Bridge and The Winery at Holy Cross Abbey
Click Any Photo To Enlarge! " * " Denotes A Definition Available on the Common Terms Page
I made my way to The 'Winery at Holy Cross Abbey in Canon City.  It's a tiny vineyard with a very interesting selection, almost all of which you can sample for free.  Half of them are the sweeter variety, including a nice port and another made of apples.  The Holy Cross Abbey closed in 2006 and is now a special events center…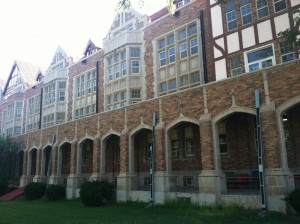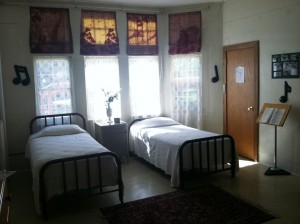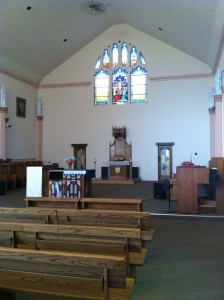 It was in the chapel that I met an old homeless fellow who asked for a ride out of town.  It's difficult to refuse a good deed inside a chapel, so I agreed.  Besides, I was heading out of town to see the famous Royal Gorge Bridge.  My companion wasn't much of a conversationalist.  Interestingly, he didn't even own a backpack, not even for toiletries or a change of clothes — just one pair of jeans and a t-shirt was all he owned.  I asked him how long he'd been living this incredible lifestyle.  A long time.  What did he do for work?  Odd jobs.  When I asked him what his plan was, he said to hitchhike his way west.  Anywhere in particular?  West.  When we got close to the Royal Gorge, I dropped him off in a resort area.  He thanked me and didn't ask for a single dime.  As a full-time RVer I thought I lived the unusual, adventurous lifestyle — this guy's a true hard-core vagabond.
As I made my way up the hills to see the highest bridge in North America, I noticed something was wrong.  The closer you got to the tourist attraction, the fewer businesses seemed to be open.  I soon realized why…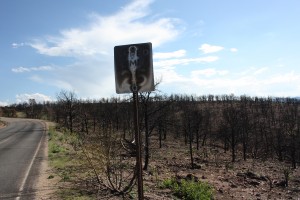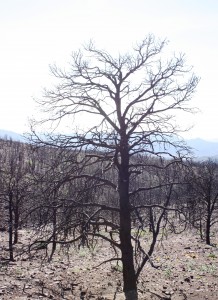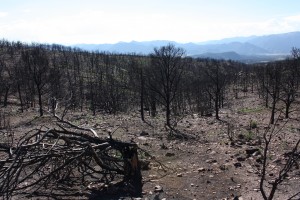 Apparently it had been all over the news when it happened June 11 — Barrack Obama even declared it a federal disaster — but while I was in Las Vegas, the nightly news was more focused on their very own wildfire, Mt. Charleston.  This one burned 3800 acres, toasted all the buildings in the area, and did ruin to the aerial tram — pretty devastating to an area that relies on tourism.
When I got to the top, a security guard  greeted me.  It was clear I could get nowhere near the bridge, which was also damaged in the fire.  He pointed to a dirt road that I could look down in the canyon and see the bridge from a distance…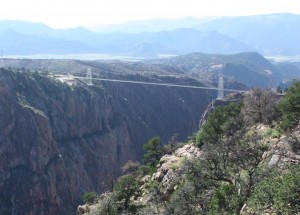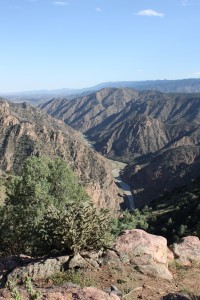 This little half-day trip was 20 miles from camp.  It cost only a little bit in gas money.  I can't deny that I've been a little moody lately finding myself stretching my dollar once again to get to my next destination.  I know it won't always be like this.  But it's also frustrating that I can't even go to Colorado Springs because it's over 60 miles from camp.  I can't go to Denver and watch the sporting events I'd planned.  It just seems I should have seen a lot more of Colorado in a month than I have…
But you know what — I maybe wouldn't have gone to Swallows Wildlife Sanctuary or bothered with the Royal Gorge had it not been for the fact I'm broke.  Ironic.  And maybe I wouldn't have had as much time to visit with some of my neighbors…
I chatted with Richard, the gardener, for awhile about how well the melons seemed to be coming along.  Once again, I learned something.  I remember when I was a kid I ate "musk melons."  Later on in life, I bought a few cantelopes, always assuming they were synonymous with musk melons.  I figured the reason they were never as sweet was because they were store-bought and pumped with steroids.  Richard explained the reason was is they were completely different melons!  Later in the evening, he brought me one of his home-grown musk melons…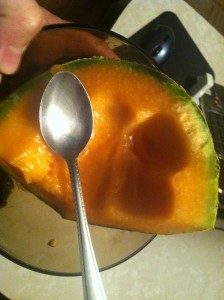 AND I DUG IN.  I managed to save only one small sliver for breakfast.  This melon was soooooo sweet an delicious.