Current Venue: Coffeyville, KS
Campground:   Buckeye Mobile Estates
Visiting:  Roosevelt Scenic Drive
Click Any Photo To Enlarge! " * " Denotes A Definition Available on the Common Terms Page
I found the jewel of Coffeyville!  Incredibly, less than a mile away I found the trail I'd heard about.  It's not easy to find, but well worth the effort on this beautiful autumn day with cloudy skies, a nice breeze, and falling leaves.  Perfect for clearing my head and finding a bit of sanity here.
Oh wait — but first — I'd like to share my backyard picture that I've been try to upload for 2 weeks.  I caught a nice reflection…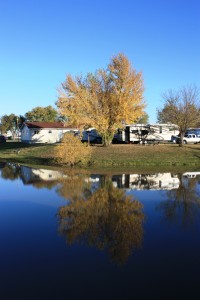 This trail was once Roosevelt Scenic Drive.  It's easy hiking, all pavement, and not terribly long.  Here's the pond…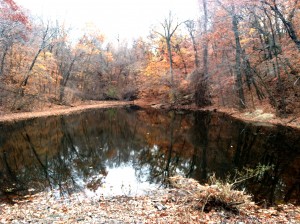 And the flood line of the Coffeyville Flood of 2007.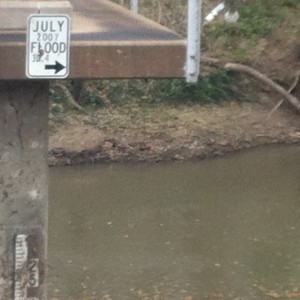 Things have been rough here in Kansas.  Bills and repairs are mounting as this very draining work seems all for nothing.  Truly — I have a little over $100 to show for my efforts thus far. My newest repair bill will be my windshield wiper motor — add it to the list.  I have another 6 weeks to find work and hopefully have some sort of game plan soon.  A lot has already fallen through and I am now considering the backup plans.
Upcoming changes to this blog:  This journey has become a harrowing financial misadventure.  And, while several of you have encouraged me to "keep things real," I don't feel comfortable clouding each post with negativity  Granted, this gut-wrenching tale may make great fodder for a book one day when the outcome is already implied that I "made it" through this adversity.  But I haven't.
I do want to "keep things real."  So I won't exactly omit the ongoing struggle from this blog.  However, I am creating a new post category.  If you'd like to continue suffering this drama I'll keep you up-to-date with my financial woes in posts labeled "The Uphill Battle."