Click Any Photo To Enlarge! " * " Denotes A Definition Available on the Common Terms Page
Current Venue:  Tempe, AZ (Phoenix Area)
Campground: Tempe Travel Trailer Villa

Who doesn't love Bass Pro Shops?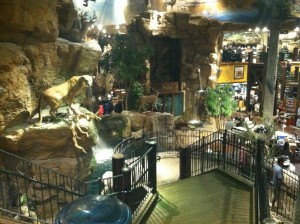 I never buy anything there, but rather wander in one occasionally just to go sightseeing.   I'm a weird kid.
I was actually killing time before I met Jim next door at Cactus Moon.  I've always found his blog one of the most interesting because he's an active workamper.  In fact, he's in the area now flipping burgers at the Angels games.  He also shared his experiences as a camp host in Oregon and as a picker at Amazon.
Amazon may be on the horizon for me.  I've personally never really worked a job for an hourly wage, so Jim was the first person to lay it out in terms I could understand — take-home pay.  Surprisingly, the money is actually quite good when you're in constant overtime as they are at the Nevada site.
I really enjoyed my chat with "Jimbo".  He's easy to get along with and has quite a sense of humor.  We're already planning on a hike before he takes off; although he seems skeptical I'll actually find a scorpion, tarantula, AND gila monster all  in one trip.  We shall see…