Current Venue:  Las Vegas
Campground: Thousand Trails

Click Any Photo To Enlarge! " * " Denotes A Definition Available on the Common Terms Page
My last hope for enough of a "surge" playing poker to pay my last medical bill off this month came to an end this week.  I made a few hundred dollars this month playing — and I'm going to keep it that way rather than risk it in the hopes of paying off this last lump sum.  I'm taking the next week off from playing and preserving the small win, instead — all 6 months this year showing a small profit playing the game.  I hate not paying this medical bill off, but I think paying double the amount in installments is wiser at this point in time.
After winning a small tournament earlier this week, 3 straight close misses was enough to cure me of poker for a few days.  Here are a couple images after my win at The Luxor…
And after finishing 2 places out of money at The Hard Rock…
It's ok.  I'm still pretty optimistic about the near future.  I hope to nail things down on Monday with the new company I may be training for.  If so, my new revised itinerary will look something like this:
Now through July 26th:  Las Vegas
July 27th – August 7th:  Mesquite, NV/Beaver, UT/Provo, UT/ Rock Springs, WY/ Laramie, WY
August 8th – 13th:  Cheyenne Mountain State Park in Colorado Springs
August 14th – September 5th:  Pueblo, CO   (Training at state fair August 21 – Sept. 4th)
September 5th – 16th : Golden, CO   (Close to Heartland Poker Tour event in Black Hawk)
October/November : Coffeyville, KS  (Amazon)
Even though I'll be finishing the World Series of Poker around July 12th, I can take advantage of the monthly rate until the 26th and really focus on some more winning poker.  In the event my winnings are minimal, I can go ahead and begin the Utah/Wyoming "sprint" a couple days early so I don't have to rush as much.  The reason for the sprint is:
It'll give me enough time to enjoy a vacation at an amazing park in Colorado Springs before taking a monthly rate in Pueblo.  It's in Pueblo that I'll find out how 2014 will shape up.  If I'm good at it, and if I can reasonably transport the exhibit, I can make $2000-3000 per weekend doing on-stage cooking demonstrations.  I've done this type of work before — so I'm not too concerned about my performances as I am having enough space in Memphis Red* for the booth.   We shall see.
I'm going to try to find the right contact here in Vegas to deal* the event in Black Hawk.  If that doesn't work out, I hope to have enough money to play* in the event before heading to Kansas.  If I'm not able to roll into Coffeyville late September, I may even get a monthly rate in Golden, Colorado to save some money before heading over.
No matter which direction I end up going, it doesn't seem anything will conflict with the World Series of Poker in the summers, whether I come back as a dealer, supervisor, or player.  Supervisors make a lot of money — some making a small yearly salary in 7 weeks!  It's something to seriously consider.  But this may also be a good way to supplement my income…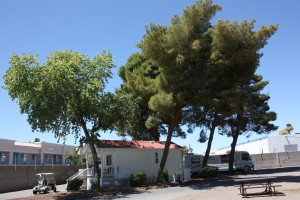 With probably 1000 dealers traveling to the WSOP every year, cabins at RV resorts are virtually an unknown option to them.  For the same price as a monthly motel/studio apartment in an unsafe area — they can get a much nicer cabin in a secure resort!  If I can find 30-40 of them and work for referral fees…
Who knows.  I DO know that I someday want a cat like this on my rig…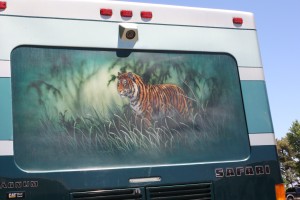 For now I'll settle with this one…