Current Venue:  Salome, AZ  (near Quartzsite)
Campground: Black Rock RV Village
Click Any Photo To Enlarge!
"The Owner is Wearing Only a Thong, Nudity on Premises."
Bookstores have a magnetic affect on me.  Used bookstores are simply irresistible.  So, yesterday when I went to Quartzsite for provisions (I'm 15 miles from anywhere), I couldn't help but check this place out.
I'd forgotten all about the naked bookseller I'd read about in my fellow RVers' blogs. My recall was even a little slow after I saw the above disclaimer on the door. But as I was perusing through some books, it started to dawn on me and, realizing I still had several unread books at home I started to think it would be a good time to leave…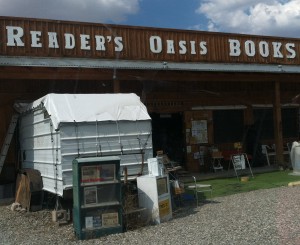 "Can I help you find anything?"  (It was Old Naked Guy).
I walked right into that one.
I would later learn from my neighbors at the pool that the practicing nudist happens to be quite intelligent and the previous owner of several businesses in the area, including a couple RV parks.  He's often seen around town riding his bike — yes, minus his clothing.  (In colder weather, however, he's known to wear a jacket, just not his pants).
RiverCat Goes Off-Roading!
Thankfully, this older gentleman is wearing pants.  His name is Stan.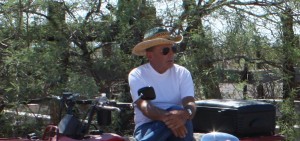 This morning I was just leaving the office to pay for an extra night.  The plan?  To rest my sore and stiff knee.  It had improved immensely by the time I left Vegas, but a full day of teardown, travel, and setup really took it's toll.
Along comes Stan.  He invites me to ride with him on some BLM trails and see some of the backcountry.  He'd lead the way on his 4-wheeler while I followed on my scooter.  Not 15 minutes prior I'd just told my sister about how bummed I was that I wasn't able to do a nature hike here on account of my knee.  Now here's Stan offering me the tour and promising the paths were "flat" enough for easy riding…
And, in a sense, they were flat.  That is to say they were "level."  My challenge on the "two-wheeler" was the millions of golf ball to softball-sized rocks, loose gravel, and large patches of soft sand.  Stan was sort of apologetic about the conditions, citing that a recent flood sort of rearranged the terrain.  But we were having fun, and pressed onward to the corral…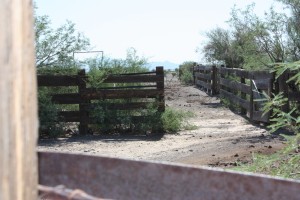 At the corral Stan shared a few stories and told me about how fanatical the local culture  is about off-roading.  He says during the in-season all you hear is the sound of off-road vehicles and it's not uncommon to see large groups exceeding 20 traversing the public lands.  He even mentioned the pastor of the church at the RV park is so obsessed that he often leads tours for his congregations and has been known to have ridden  all the way to Flagstaff!
Despite not finding any bighorn sheep or scorpions (I've never seen a scorpion in the wild), this was a terrific little adventure.  I'm grateful Stan came along and I'm very thankful I managed to keep my little 50 cc street bike upright.  This is what the Journey is all about!
Onward to Phoenix
Tomorrow I head to Phoenix.  Despite only paying only $19 per night for this experience, I'm anxious to get to work and try to earn some money.  I'm anxious to see if I can continue to earn over $35 per hour playing poker in my 3rd straight venue this year (in places where I didn't need to leave town in a rush).  I think if my success continues in Phoenix, it'll give me a lot of confidence moving forward.