Where I'm At:  Tempe, AZ (Phoenix Area)
Campground: Tempe Travel Trailer Villa
Work: Private Poker Club
Click Any Photo To Enlarge!
While Jeepers has the appearance of a perfectly healthy cat, his complex irritable bowel syndrome type-of-condition has baffled veterinarians for years.  Occasionally he gets constipated and blows up like a balloon — and apparently it's my job to "unbloat" him.  It's that time again…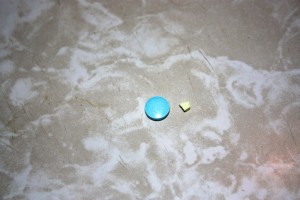 Not only is Jeepers very intelligent, he's also very psychic. It amazes me how, as soon as I start thinking about how I'm going to administer his medication, he'll actually start pacing the laminate floors! Tap tap tap tap. Tap tap tap tap.
He does know it's for his own good — you can tell. But that still doesn't mean he has to like it.  It's impossible to give the pills orally anymore. He'll either fight me or simply find a corner and spit it out. So, Plan B…
First, crush the pills into a fine powder…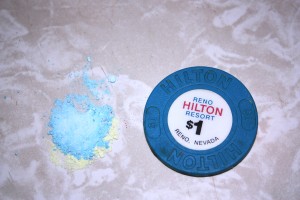 A poker chip is perfect for this.  In fact, I've been using this souvenir for several years now.  For a time I could spoon-feed Jeepers this powder, thinking I was some sort of genius when he seemed to approve. Yeah, right. Finally, one day, I followed him to a corner and watched him simply "puff" out a magical-looking blue cloud.
So, I devised Step Two…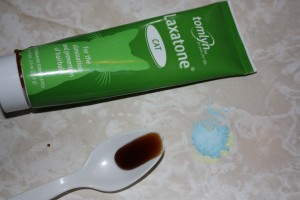 '
Trust me, it looks like Karo syrup, but it's not nearly as tasty. The odor reminds me of the "stinkbait" I used for catfishing when I was a kid. Unfortunately, I do have to mix the powder in with my finger.
Final Step! Apply to Cat…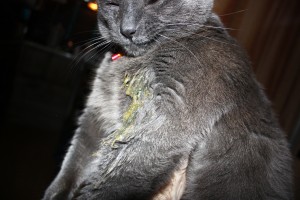 No, he's not smiling.  That's a grimace.
Notice I put this nastiness on his chest.  (I used to put it on his paws, but he'd figure out how to flick it off.  When I applied it to the upper portion of his leg, he devised a  scheme to let it eventually drip down to his paw and then let it accumulate into lumps before flicking it off.  Smart cat).
I think I've finally outsmarted him.  He doesn't have an answer for this — yet.  He's forced to lick it off or be stuck with the sticky.