Click Any Photo To Enlarge!
Where I'm At: Susanville, CA
Campground : Susanville RV Park
Time to Shake Things Up
Technically, I've been a full-time RVer since 2008, when I purchased my travel trailer. And, while I have learned the in's and out's of living in an RV, I'm embarrassed to say I hadn't moved from my spot in Reno during the entirety of this extended pit stop. I figured it was about time I should take "48 Ugly" on the maiden voyage before I hit the road full-time.
I set my sights on Susanville, California — 80 miles north on 395. I'd been to Susanville a couple times. It's famous for it's prison but I prefer the nearby trails and casino that offers poker on the weekends. Most importantly, there aren't too many hills to navigate on my maiden voyage.
This trip I had one primary objective — to get there and back. I've never hitched, towed, parked, or leveled a trailer. I'm not a handyman nor have I had any kind of training or guidance with these sorts of things. Needless to say, I was a little nervous.
But I Made It!
Ok, I admit I was a little "tense." I kept both hands on the steering wheel as I battled wind and some visibility issues. I even pulled over at a rest stop to make sure everything was still intact. But I made it!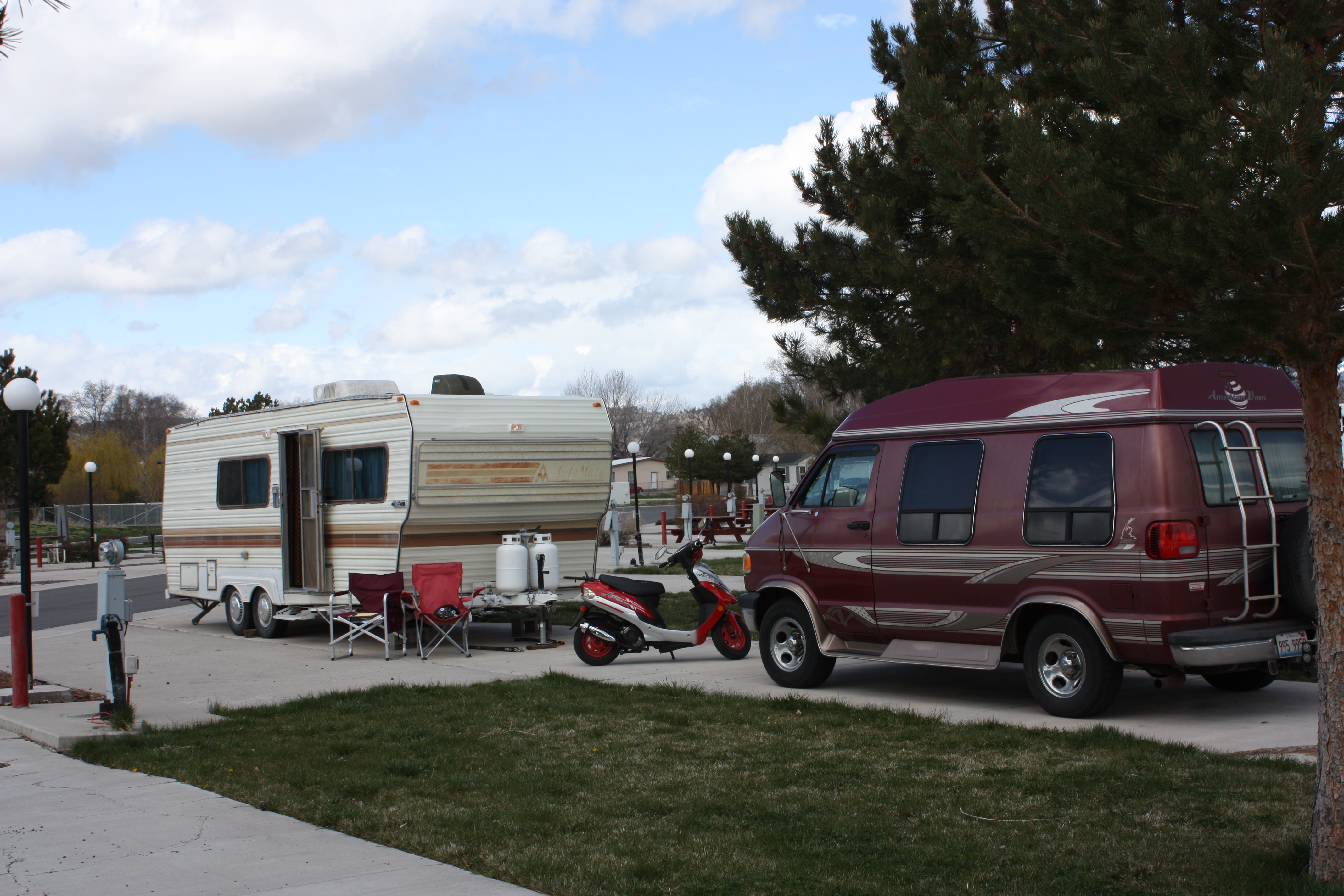 And here's what I've learned so far:
The mirrors I had replaced my defective factory mirrors with are even more flawed. They have blind spots and shake violently. They'll have to be replaced.
I still don't know how to back a trailer. I'll try to stick to pull-throughs for awhile.
My little 318 engine is going to struggle up hills with the weight of my home. I suspected this would be the case despite mechanics assuring me I had plenty of towing power.
My blackwater tank has a drip and will need to be repaired.
Shit happens. Sometimes toilet paper gets stuck in the valve and seepage occurs. It turns out the sewer cap is there for good reason and you should always be prepared for a little "splash."
It feels sort of surreal. This morning I'd already started drinking my morning coffee in my everyday home — completely oblivious that I wasn't in Reno, anymore! When I opened the door, I was giddy with excitement. I'd done it! I'm home. And home is on the road.
Next Story: Grindin' it out in Reno