Current Venue:  Tempe, AZ (Phoenix Area)
Campground: Tempe Travel Trailer Villa

Click Any Photo To Enlarge! " * " Denotes A Definition Available on the Common Terms Page
Tempe Diablo Stadium is home to the Anaheim Angels.  The Angels are perhaps the team I want to watch the most this spring training, with a loaded offense and a player that is fast becoming my favorite — Mike Trout.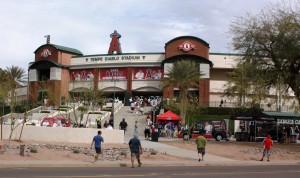 I hadn't planned on going to a game today, particularly when it's  a "premium" ticket.  You see, prices fluctuate depending on who's playing — and the Cubs draw large crowds.  But when I saw the weather was going to be overcast, I zipped over to the nearest ballpark.
And what a setting!  Beautiful backdrops…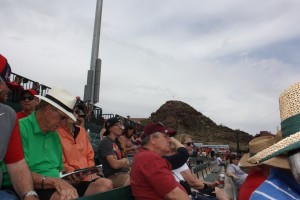 Terrific lawn seating…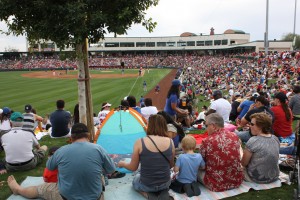 Limited parking, however.  I had the misfortune of being naive and coming from the wrong direction.  I took the first entrance assuming it was the only one.  I paid the hefty toll of $10 for the privilege of squeezing into a small lot on the hill on the left…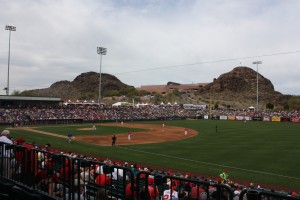 Upon further investigation, I discovered a lot of $5 parking and even free street parking if you got there 2 hours early.  But as it turned out, the extra 5 bucks may have well been worth it, because at the end of the game I was able to avoid traffic and get right back home in no time flat.  I intend for this game to be my most expensive, however — $22.
So, any guesses as to what the two Cubs players are looking at?  Are they being "obvious"?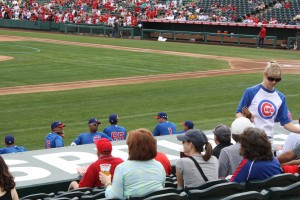 Introducing — Mike Trout…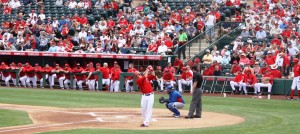 Why is this third-base coach trying to steal home?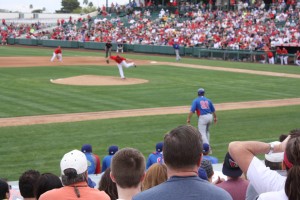 Well he made a grave error only a few moments before when he failed to recognize an off-line throw and send his runner home.  The fans let him know about it, too!  The next inning, when the Cubs Brad Nelson hit a homerun I yelled at the coach, "Send him home, send him home!"  But not loud enough for anyone to hear.
My player Trout did not get a hit today.  On a strikeout, however, he managed to take first base on a ball that barely squirted out of the catcher's mitt.  He's fast.
Final Score:   Chicago Cubs 4, Anaheim Angels 2