Click Any Photo To Enlarge!    " * "   Denotes A Definition Available on the Common Terms Page
Current Venue:  Tempe, AZ (Phoenix Area)
Campground: Tempe Travel Trailer Villa
Visiting : Surprise Stadium in Surprise, AZ
Surprise Stadium is the seventh I've seen on this spring training adventure — and the most beautiful.  From the moment you're greeted at the gate by the Surprise Sundancers you feel all "warm and fuzzy."  There is clearly a lot of pride and integrity in this facility and everyone seems to be in terrific spirits.  Surprise is home to both the Rangers and Royals, and it's this evening they would actually play each other.
I arrived quite early.  I first took in a little Rangers batting practice…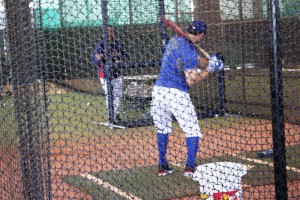 Here's Salvador Perez in the Royals bullpen…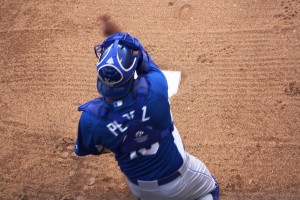 The scoreboard…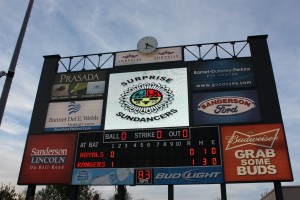 Alex Gordon in left field…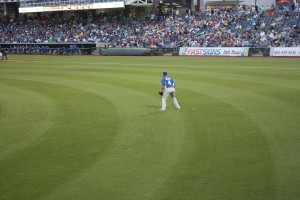 This game got "ugly" real quick.  The Rangers sprayed hits consistently throughout the game and never relinquished the lead.  In fact, if it weren't for a handful of amazing throws by the Royals' right and center fielders, the Rangers might have scored 15 runs.  Cain and Francoeur each threw out one runner and held up several others with perfect strikes to home plate.  So, even despite the Royals struggle with the bat, they were really fun to watch!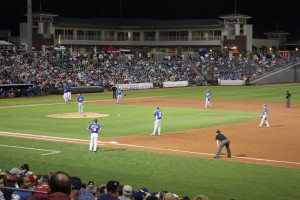 I like this shot with the carousel in the background…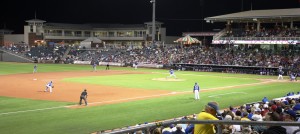 And a rare picture of me!  Is my hair ok?  Shame on me, I didn't shave…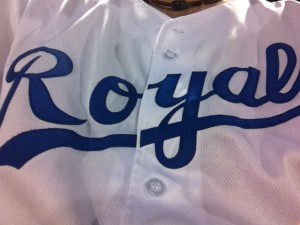 This is the jersey I purchased in Vegas on the cheap from someone who'd won it in a drawing.  The first time I wore it I got in my scooter accident!  So it's ripped, torn, shredded, and stained with skid marks — but I still love it.  (I"m still a diehard Cardinal fan guys!  Kansas City has always been my second-favorite).
Final Score:  Texas Rangers  8,  Kansas City Royals  2