Click Any Photo To Enlarge!    " * "   Denotes A Definition Available on the Common Terms Page
Current Venue:  Tempe, AZ (Phoenix Area)
Campground: Tempe Travel Trailer Villa
Visiting : Superstition Skies Bar and Grill in Apache Junction AZ
When I was still a "dreamer", Diana of "Life on the Open Road" was very much one of my heroes.  Today I got the opportunity to meet her at a very neat little authentic bar and grill called Superstition Skies, right in the shadows of the Superstition Mountains in Apache Junction…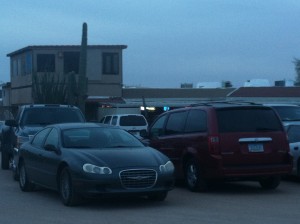 One of the really cool things about it is that it's right smack dab in the middle of this little rural residential neighborhood.  According to Diana, it's not uncommon for people to visit the establishment on horseback. She also showed me the back room where Elvis Presley did a scene in one of his movies and where one of the fastest painters in the world did this really cool mural…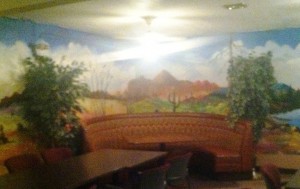 I didn't get many good pictures in this lighting, but I got to visit with another wonderful group before the band started playing…
Diana travels with a fellow named Phil…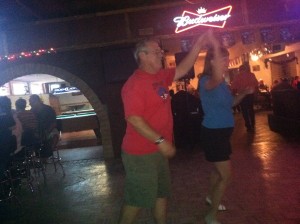 They met as single RVers, as did Diana's sister, who was also in attendance with her husband!  So where do single full-time RVers find their partners?  Well, Diana and Barbara should just kick me because between them I believe it was mentioned a dozen times and I forgot the name of the group again (hopefully one of them will remind me with a little comment at the end of this post) — but apparently it's a bunch a folks that plan a route months in advance and RVers can join the caravan whenever they please.  Again, pretty cool!
But how's THIS for cool!  Sandie and Jim were again in attendance.  And what they told me just blew me away.  And be prepared if you are one of those that will tell me how "lucky I am to be single" so that I can pursue a lifestyle like this, because next time you do, I will refer you to this website.  Ok, get this:
There is a family that  travels full-time in an RV — with TEN children!
Well tomorrow's my big wildlife scavenger hunt with Jimbo!  Scorpion, tarantula, gila monster.  Like my chances?