Click on Any Photo to Enlarge
Where I'm At:  Redding, CA
Campground:  Sacramento River RV Park
Day Trip:  Turtle Bay and the Sundial Bridge

Here's the icon of Redding, California.  It's an impressive footbridge in the heart of Turtle Bay Exploration area.  I think it was built to the tune of something like $40 million.  And yes, it is an actual sundial.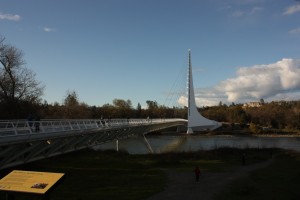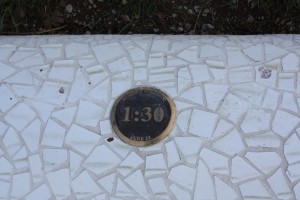 The bridge leads to a trail system and an arboretum.  I chose to do a short trail first in the hopes I'd find some otters.  I didn't see any, but I did have a lovely hike around around some marshes and meadows.  It's interesting the sounds and sights you miss when you've been living in the desert awhile.  For instance, the chirps and croaks of frogs — great to hear, again!
I then visited the arboretum.  My favorite plants were the Monkey Puzzle Trees from Chile.
My new friend, Shauna, talked me into doing a river trail in the evening.  (It's funny, I've been so focused lately that I haven't even thought about dating in nearly 3 months).  It was pretty brisk out, even downright cool at times, but it was a really neat time.  The highlights were probably assisting a funny old fellow find his cell phone (in his pocket) and seeing the bridge lit up at night.  Unfortunately, I can't get my night bridge photo to download at the moment.
And how far is all this from "work"?  Only five minutes from The Casino Club.  And in between the two?  Starbucks.  Good times ahead.