Current Venue:  Redding, CA
Campground:  Sacramento River RV Park
I've been suffering from insomnia quite a bit lately.  I was really hoping for a good night's rest so I could go to the gym, play an early afternoon session of poker, then do some sightseeing at Turtle Bay — a full day.  I can say with fair certainty I won't be going to the gym on 4 hours sleep.  Here's the culprit: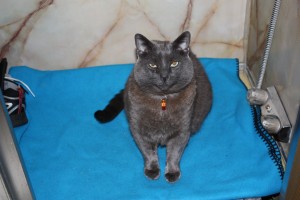 If he looks a little sleepy-eyed, that's because I just woke him from his slumber.  He's been sleeping for the last two hours while I've been tossing and turning.  When he wakes me up at his 3 am feeding time lately, he gets sent to "his room" and…he goes to sleep.  I know, it's a brutal punishment.
The reason he's been waking me up is that lately he's been sleeping on the window side of the bed.  (He used to sleep on the corner).  When he sleeps on the window side, he either has to leap over me or use me as a stepladder.  He seems to prefer the latter.  This is becoming a real problem, as my 30-year-old mattress is starting to wreak havoc on my sensitive back again, even despite the memory foam pad I bought a year ago.
Yesterday I found a new mattress for only $110.  If I either get hired for the World Series of Poker this week or earn another nice profit playing, I'm buying that mattress.  I also figured out that the reason Jeepers sleeps on the window side now is that he's in love with my new robe — which I'll no longer keep in bed. Simple solutions.
About the World Series.  Because I haven't dealt there in a few years, my contact was telling me I need to audition sometime after April 10 in Las Vegas.  That, of course, would be a logistical nightmare.  Why?  See picture above.  Who's going to care for a special-needs cat while I fly to Vegas?  My only sitter is in Reno.  I e-mailed my contact again about reconsidering my "return dealer" status, he asked a couple questions, and is seemingly going to get back to me with an answer next week.
Yesterday was the first day it didn't rain much.  My RV-repair guy had postponed on me two consecutive days and, while he said he'd come over first thing to look things over, I didn't put much stock in that.  I'd already set aside a couple poker sessions waiting on him to show up.  I was feeling uneasy about losing out on my seat again in the 11:30 game when…the sun broke out.
I didn't waste any time.  I borrowed my neighbors ladder, removed those unsightly trash bags on my roof, and started caulking.  Mind you, I don't even know how to caulk.  I'm self-educated in this matter, beginning a couple days ago when I discovered my former handyman had forgot twice to re-seal the porch light that was completely exposed to the storm and shorting out my power.  I caulked that and covered it with tape (because it was raining).  I'm still afraid to remove the tape, as it undoubtedly looks hideous.
And what I did to that roof is certainly no prettier.  Gobs and gobs of white silicone everywhere around these fixtures.  None of it is in anything that resembles a straight line.  I must have a bad gun?  Because I can't seem to turn mine "off."  In all likelihood I just don't know how to handle one of these contraptions.  (I need to sign up for a course at Home Depot).
Anyway, after piling it on thick around the leaky fixtures, I examined the roof above the bathroom.  I didn't find much.  I did go ahead and take one stab at it, though.  I filled in a couple places that might have been the problem, but I'm somewhat doubtful.  Only the next wave of storms will tell.  They're on the way…
Next Story: Sundial Bridge