Click on any Photo to Enlarge
Current Venue:  Redding, CA
Campground:  Sacramento River RV Park
Sleepyheads
I've been suffering from insomnia lately. Here's the culprit: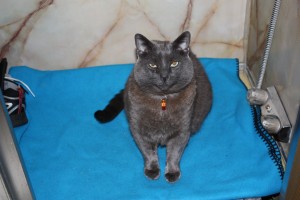 If Jeepers looks a little tired and grumpy, that's because I woke him from his nap. I want him to think twice now about his new 3 am eating schedule. His punishment for using me as a stepladder the past few nights at this ungodly hour was getting sent to "his room" — so he could sleep. I know, it's harsh.
Hopefully this little staredown/meeting will finally get the message across. If not, he'll have to sleep in the bathroom until he can break this weird sleep cycle.
Blindsided!
My summer job in May is dealing the World Series of Poker in Las Vegas. Having dealt the event several years, I was under the impression I'd been grandfathered in and would not have to be there for a couple more months.
I was shocked when I was being told I would have to re-audition for the job in April. This means I may have to travel a little faster and leave a poker venue in Redding that has been treating me very, very well. I'm now pleading with my contact to reconsider.
Gobs and Gobs
Yesterday was the first day it didn't rain much.  My RV-repair guy had postponed on me two consecutive days and, while he said he'd come over first thing to look things over, I didn't put much stock in that.  I'd already set aside a couple poker sessions waiting on him to show up.  I was feeling uneasy about losing out on my seat again in the 11:30 game when…the sun broke out.
I didn't waste any time.  I borrowed my neighbors ladder, removed those unsightly trash bags on my roof, and started caulking.  Mind you, I don't even know how to caulk.  I'm self-educated in this matter.
But is there really a skill to this?  Is it necessary to actually form a straight line? If so, my caulking gun is to blame. For one thing, I can't seem to turn the darned thing off! It seems to me, the gobs and gobs of white silicone clumped around my fixtures should do more good than harm, right?
The next wave of storms will tell. They're on the way…