Click Any Photo To Enlarge! " * " Denotes A Definition Available on the Common Terms Page
Current Venue: Pueblo, CO
Campground:   Haggards RV Campground
Visiting : Sheep Riders Competition at Colorado State Fair
It's over.  I estimate I've invested 100 hours in this venture between rehearsing and showing up every day.    The very unfortunate part about our bad location, of course, is that this is going to delay my distributor status several months when I can train again.  This wasn't a total loss, though — I got to handle the cookware and rehearse the movements, which is a big part of it.  And I made more connections…
I found two more vendors that I'll be in negotiations with.  The upside is the booths for both will take up less space in the van.  The downside is that I'll have to buy inventory and pay for my exhibits.  One is a $10 item I could test at flea markets first.  The other is a higher-ticket item that would work well in conjunction with a massage booth (my former trade show business)…
One thing is clear:  I'm heading in a direction where I need to get serious about finding that big cargo van in the next few months.  Not putting all my eggs in one basket, I could potentially end up with 3-5 booths and inventories.  This includes the cookware booth, a massage booth, poker equipment, and one or two more products.  Wow!
Of course, this 5-in-1 trade show business won't happen all at once, so I probably have all spring and summer to really find the right vehicle and scrape up the money.  Meanwhile, it should be a very, very interesting spring.  Which of my many ventures will take the lead?  Only time will tell.  I know, ultimately, the company I'm training with should be the big breadwinner.  I've met 3 distributors — all with six-figure incomes.
To help keep sane and grounded this week, I visited the livestock and horses at the fair.  Here are a few images during my daily excursions.  One of the most beautiful things I've ever seen was this cowgirl riding in this competition.  She looked amazing during this performance with her ponytail flying while in total control of this huge beast.  And, if I weren't broke at the moment, I surely would have asked her out after developing a total crush on her within 5 seconds of her prancing into this arena.  Whoooooa, RiverCat!  There may be many, many more fairs in my future…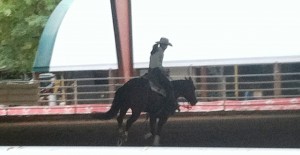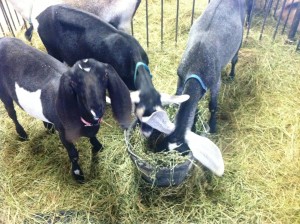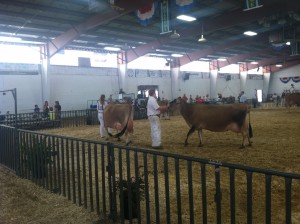 I rode to work  in one of the many shuttles they ran from the South Parking Lot.  They had an interesting system set up.  Yes, he's on the sidewalk…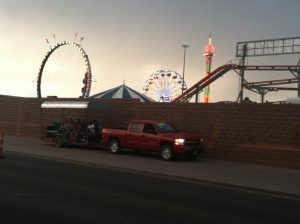 Last, but not least, the "mutton bustin" sheep riders.  You may think  little 4-7 year-old children in body armor and helmets crouching down on a sheep and hanging on for dear life is just good for a laugh.  In actuality it's also a real competition with a world champion to be crowned in Sacramento later this year!   It is funny, of course.  But these kids take it seriously — future rodeo stars.  They also take their outfits seriously, very flashy little costumes.  Unfortunately I got none of this on video.  My iphone battery gave out while recording the festivities!  Prior to the event, however, I got some amusing video of the sheep being corralled.  I don't know why it makes me chuckle…
It seems like I've been here longer than 2 weeks but, to my amazement, I have two more weeks here at Haggard's.  I hope to get a lot done before I shove off on the 18th and begin my Amazon adventure.  That will give me two months to figure out what I'm going to do in early 2014.
It's going to be an exciting year.  I can feel it!