Current Venue:  Tempe, AZ (Phoenix Area)
Campground: Tempe Travel Trailer Villa
Visiting : Scottsdale Stadium in Scottsdale AZ
Click Any Photo To Enlarge!    " * "   Denotes A Definition Available on the Common Terms Page
Scottsdale Stadium is home to the San Francisco Giants.  Yes, they are world champions.  And yes, the Texas Rangers draw large crowds.  But considering it was still a weekday, I wasn't expecting a sellout of 12,000 people!  It seemed as if I was the only person that didn't know.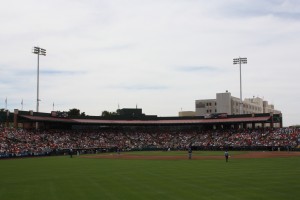 My average ticket price for the games has been around $12.  Today, the starting price at the gate was $45, to sit in the grass (somebody's a genius).  The advantage of buying from a scalper as a single person is that occasionally they have tickets they can't sell in pairs.  I was able to get mine at half-price while others where paying in excess of $50.  Even still, I was way over budget this game.  And I wasn't able to put this on my credit card.
And it was over 90 degrees.  So, when is it too hot to watch a baseball game?  I watched plenty in major league stadiums where it was hotter than this.  But at spring training, less than 20% of the seats give you any relief from the sun.  In these conditions, I am constantly wiping the sweat out of my eyes.  Pursuing comfort  is a constant chore.  But these folks seem to have that part figured out…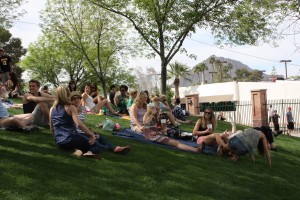 Only problem is they, and about a thousand others, were either on the backside of this hill facing the street, or in the tunnels or shaded vending areas with no view of the action on the field.  I myself was in the tunnel when the only homerun of the game was hit.  Two more runs scored when I was wiping sweat from my eyes.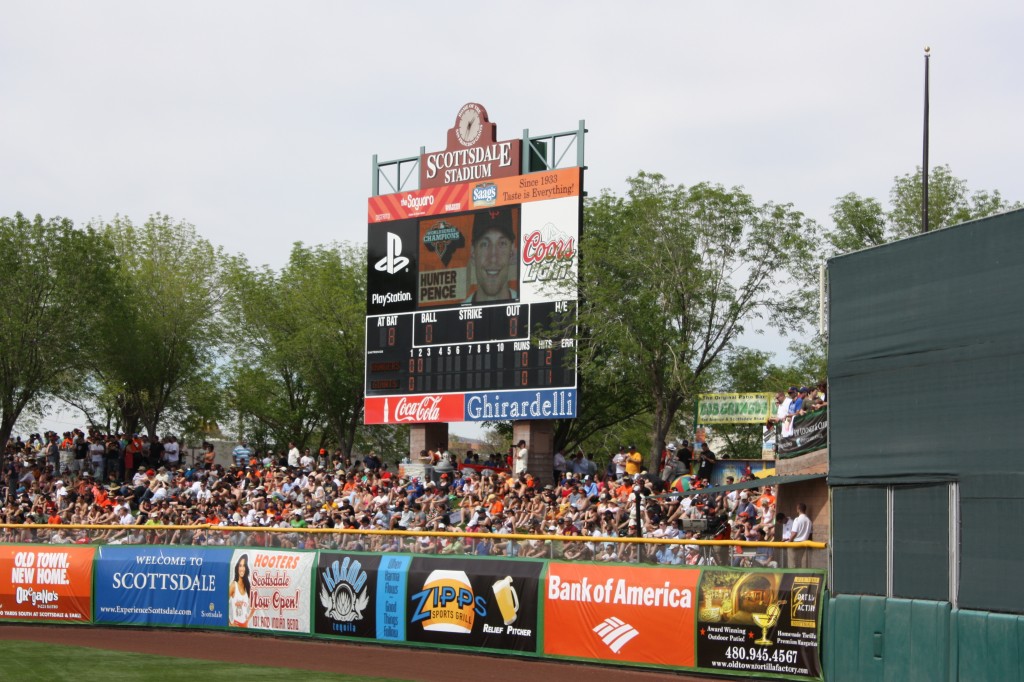 This was clearly my least enjoyable experience of spring training.  For now on, new rules — night games, overcast days under 90 degrees, or sunny days under 86.  This means my two remaining day games are coming off the schedule until further notice.  I have two night games Monday and Tuesday, and then the Cubs and Brewers will just have to wait until I can make my guest-star appearance.  And, if I don't see all 10 stadiums this year, I'll just have to get them next time around.
I'm starting to get anxious about diving back into my projects.  High on the priority list:  Jeepers new home, finishing business website, contacting trade show prospects, starting my Las Vegas arrangements, and contacting Amazon for potential winter employment.  Assuming I make what I should in Vegas and have an Amazon destination to shoot for, there are three possible routes I may be taking this fall…
1.  Vegas — Northern California — Oregon/Northwest — Northern Nevada
2.  Vegas for 4 months, then Northern Nevada
3.  Vegas — Phoenix — New Mexico — Kansas
I also had my sights set on Kentucky, Amazon's other distribution facility.  This would put me closer to home where I could potentially see my family after the holidays and take care of some necessary business.  At the moment the financial risk of traversing half the country on my meager savings is too great, however.  If I could set up a dealing* gig in the SouthEast early in 2014, that could all change…
Final Score : San Francisco Giants 5,  Texas Rangers 2