Click Any Photo To Enlarge! " * " Denotes A Definition Available on the Common Terms Page
Current Venue:  Tempe, AZ (Phoenix Area)
Campground: Tempe Travel Trailer Villa
Visiting : Salt River Fields in Tempe, AZ
Salt River Fields is home to the Colorado Rockies and Arizona Diamondbacks…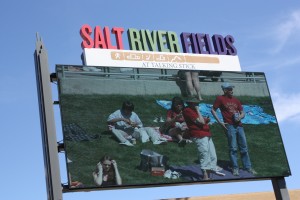 The sun is shining again, so this time I wore more appropriate attire for the occasion.  No sunscreen, however.  But the kind folks at Salt River are prepared for fools like me.  They give away sun protection for free!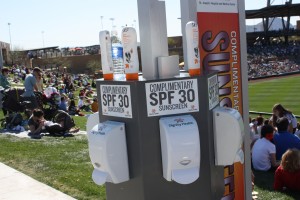 I wasn't certain how my finicky low back would handle sitting on the incline of the lawn seating.  I quickly determined that I could only really sit in an upright position for about 2 innings at a time.  But here's the great thing about the lawn ticket…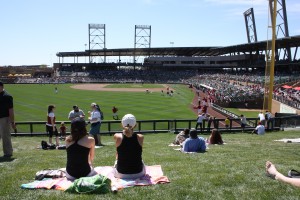 You can  move around indiscriminately!   First I meandered up to the Diamondbacks bullpen.  Here's starter Trevor Cahill…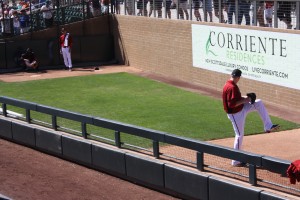 I then spent some time in the center field stands before using my "all-access pass" in left field.  That's where I got to see the Royals bullpen up-close.  Here's reliever Will Smith.  He's competing for a spot on the roster and came in to pitch two scoreless innings for Kansas City…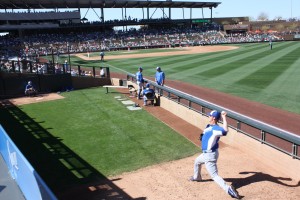 Ok, one of my blogger resolutions this year is to take more video.  Everyday that I do a post, I think of at least one picture that would have been more fun as a short video.  The following is a clip demonstrating my raw inability to hold my iphone steady or follow a baseball in-flight.  It also illustrates my disregard for the viewer as I lay my recording device face-down in the grass to applaud a monster grand-slam to straight-away center by Royals star Alex Gordon.  But here's the good news:  Despite all this, you do get to hear my exhilarating narration and follow some birds in-flight.  Also, when I lay my phone in the grass it sort of confuses my camera and creates this really "dreamy" effect.
In this video you may have overheard the three 20-ish ladies gabbing about their retail sales at their respective cosmetic counters.  Now do you think they had ANY idea what was going on in the game?  I'm not even sure they saw the homerun!  Immediately after the spectacle, one turned to the other and uttered the words that literally dropped my jaw,
"Soooo…this is getting kinda' boring.  Do you want to go shopping?"
The Royals smacked around the D-Backs on this fine day.  And, while I know pre-season records mean nothing, Kansas City is now a nifty 11 – 0 during spring training!  (The odds are 40 -1 for them to win the World Series).  But more importantly, look what I found!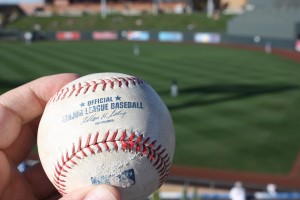 Yep, I had just moved to my new position near the exit ramp when this long fly ball came screaming towards me!  It sliced just out of my reach, and then caromed off a couple of concrete barricades.  Me?  I was making quite the fool of myself — but I was NOT going to be denied!
Interestingly enough, it sort of took a couple hops into an area where nobody could see the action on the field or even realized it was a foul ball I was chasing.  They probably just thought I was just some old fat guy trying to play catch with his son.  So when a disinterested young man bent over and scooped it up, I just held my hand up as if to say,
"Hey, can I have my ball back?  Thanks!"
And THAT is how I caught my first major-league foul ball.
FINAL SCORE:  Kansas City Royals  8,  Arizona Diamondbacks 1, The Ramblin' RiverCat  1