Current Venue:  Tempe, AZ (Phoenix Area)
Campground: Tempe Travel Trailer Villa
Visiting : Queen Creek, AZ
Click Any Photo To Enlarge! " * " Denotes A Definition Available on the Common Terms Page
Cross your fingers!  Yesterday I dropped Jeepers off at a home that may potentially adopt him.  I dare not get my hopes too high yet.  While it is a lovely home and a very nice couple, there are a few "variables."  Four girls, a teacup chihuahua, a St. Bernard (he's outdoors) and, last-but-not-least — another Russian Blue named "Jeep."  My primary concern is if they'll get along, but I also wonder how willing this  family is to keep their food separate — as Jeepers cannot get access to dry food.  I'm waiting to hear how the first day went.
I had to do a little sightseeing, of course!  I was not disappointed.  My first stop was Queen Creek Olive Mill.  I figured the $5 admission fee for the tour was reasonable enough…
The tour began outdoors.  We observed the original orchard and learned the history of the mill.  I learned that much of the flavor of olive oils are determined by when they are harvested by gauging what percentage of the fruits are red versus green.  Most importantly I learned there is no such thing as a black olive — they are actually green!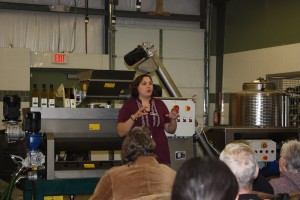 Indoors our guide described the process of making olive oil.  There is a vast difference between "extra virgin" and regular olive oil.  In fact regular olive oil is basically 96% "excrement" as I understood her.  And beware of labels that say "lite" because that is only the color of said excrement.  I have to say, the most interesting part of the indoor tour was sampling 4 different olives.  Each one was stuffed with a different flavor, 2 of them with different cheeses, one with garlic, and one with an almond!  Each one was delicious, by the way…
The Queen Creek Olive Mill has been featured on several TV shows. In fact, I believe you can view the episode from Dirty Jobs on their website.
It is also very popular.  Here is just a portion of the indoor seating of the dining room…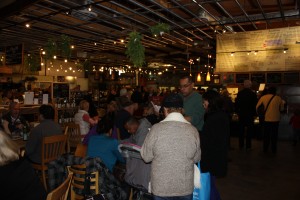 While the prices of their unique selections certainly weren't unreasonable, I determined the coffee shop was the only place I could spend money this month…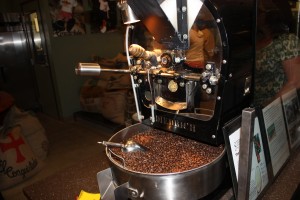 Oh yeah, and the free samples!  Here you see several chili, olive oil, and wine tastings.  Guess which line is the longest!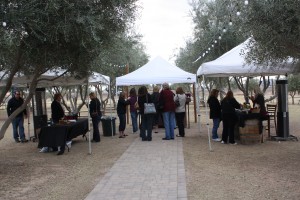 The entertainment was also free…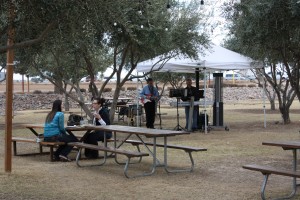 Satisfied with the day's events, I was on my way out of Queen Creek but kept seeing the signs for Schrempf Farms.  I couldn't resist.  So, what is it?  It is an actual working farm and amusement park rolled into one!  And I don't know if it's because it's off-season, but admission was free.
I began at the petting zoo where, to my delight, I got to see some 2-day-old goats.  This is where I wish I'd remembered to use video.  These little guys are so happy!  Despite having awkward motor skills, they prance around with their little tails flitting  non-stop — really fun to watch.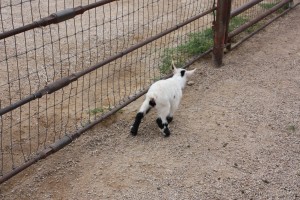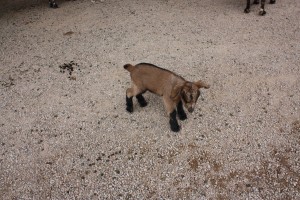 This teenager was not so impressed, however.  He's nodding off a bit…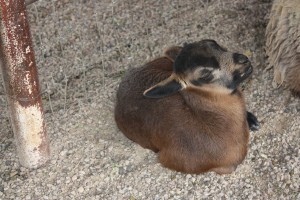 This guy is roommates with a large milk cow…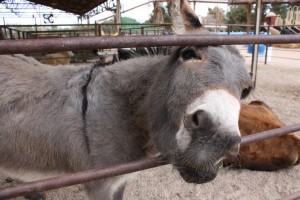 Except for the train, most of the rides are closed this time of year…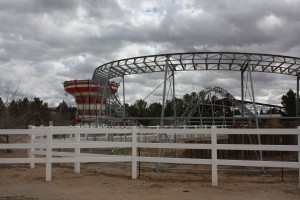 But I did see a lot of adults picking fresh produce from the gardens at a seemingly reasonable rate of only $2 per pound.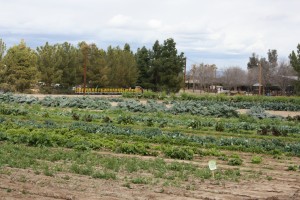 Does corn fields, palm trees, and mountains seem unusual?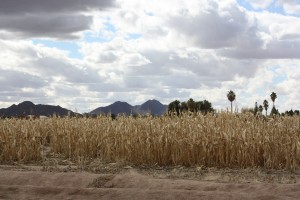 I finished the tour on the peach orchard trail and in very good spirits.  I'm glad I got to visit during the off-season on a nice, overcast day.  But I would like to come again and see things in full swing.  There are a dozen little buildings along the trail offering different activities like building scarecrows.  There's also a wedding reception area and special-event candlelight dinners in the peach orchard.  They even have a small RV park with full hook-ups!  Only $35 per night, $200 per week, and $450 per month if you're interested.
Well I just got an update on Jeepers.  He's unhappy and I have to go get him…