Current Venue:  Las Vegas
Campground: Thousand Trails

Click Any Photo To Enlarge! " * " Denotes A Definition Available on the Common Terms Page
I'll start with the not-so-scary stuff so you have an opportunity to put the kids to bed first…
It's been an errand week.  I picked up a computer virus — a $200, 2-day event.  Memphis Red had two trips to the garage to repair some hoses and a squeaky belt.  The rest of the time I've pretty much spent working on my blogs and studying my training materials for my new job.  (Well, that's not entirely true — I've had a couple dates, too).
I was fortunate enough a couple days ago to find some food comps on my players' card at Red Rock Casino so I had myself a buffet.  I couldn't believe what I found, and I think I was supposed to invent it!  You see, I've always loved cornbread.  But I always preferred gooey cornbread over the fluffy kind.  So, what did I find?  Cornbread Pudding!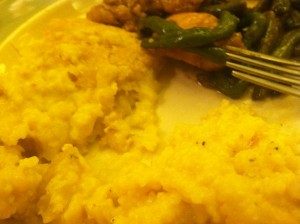 Yum!  Next to the pudding is some bacon-cheddar potatoes.  I had two helpings of each.  Bad RiverCat!
Here is a picture of an annoyed Jeepers.  I woke him from his nap to take his picture.  If looks could kill…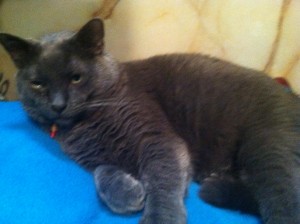 But if you think that's scary, wait til you see this.  Turn away if you are easily frightened.  It's my HAIR when I wake up in the morning!