Click Any Photo To Enlarge!    " * "   Denotes A Definition Available on the Common Terms Page
Current Venue:  Tempe, AZ (Phoenix Area)
Campground: Tempe Travel Trailer Villa
Visiting : Peoria Sports Complex in Peoria, AZ
Peoria Sports Complex is home to the Padres and Mariners.  After seeing a small crowd at the Rangers-Royals game, I wasn't expecting over 11,000 fans at this one!  But it seems Giants and Cubs are consistently the big draws in the Cactus League.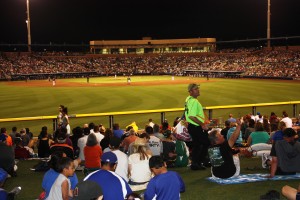 I couldn't resist the speed-pitch contest!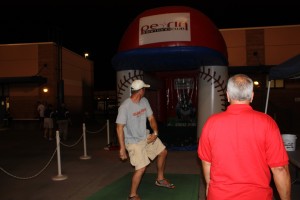 The $1 entry goes to charity, and then winners in each age category receive a t-shirt.  The radar seemed a little "suspect" to me.  My first throw was just a warmup at 71 so I figured I at least had a chance of the 76 mph top-score in the old-folks category.  My next pitch was easily my fastest and I thought for sure I was the new leader — the reading said 10 mph!  Ooook.  Apparently the machine is not capable of 3-digit readouts — I'm sure it was 100 mph.  My last pitch I bounced it for a 46 mph reading.  Oops.
Here's Seattle's Michael Morse…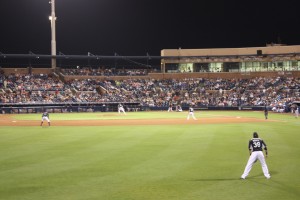 My section…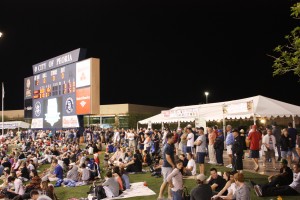 Much of the entertainment this evening on the lawn was an unnaturally large moth terrorizing the spectators.  Finally a young lady won my admiration when she casually picked it up citing that moths don't bite.  Very true.  But she lost my respect a tiny bit when she returned the moth to the wild — 50 feet away.  Yeah, right, that'll work.
I believe this would be the closest game I've seen in the Cactus League, incredibly enough.  There were a couple lead changes but even this one was pretty much over by the 8th inning…
Final Score : Seattle Mariners  6,  San Francisco Giants  3