Current Venue:  Tempe, AZ (Phoenix Area)
Campground: Tempe Travel Trailer Villa

Click Any Photo To Enlarge! " * " Denotes A Definition Available on the Common Terms Page
I accidentally stumbled on the most pitiful marina I'd ever seen today.  I didn't take any photos of it because I did not want to embarrass the City of Tempe.  Instead, I aimed my camera across the Salt River and snapped a shot of Sun Devil Stadium.  This is home of the Arizona State football team.  Several movie scenes have also been shot here, including Jerry Maguire and Raising Arizona.
I'm doing research for my tour guide stint.  Today's destination: Papago Park.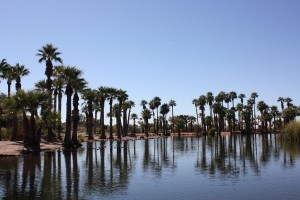 Sitting on 1200 acres, it features The Phoenix Zoo,  the Desert Botanical Garden, several small lakes, a fire museum, Hunt's Tomb, quite a few paths, and Hole-In-The-Rock: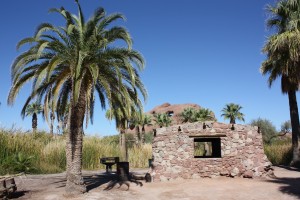 Hole-In-The-Rock is a red sandstone formation from some 6-15 million years ago.  There is some evidence that a now-extinct aboriginal tribe, the Hohokam, used the opening to track solstices.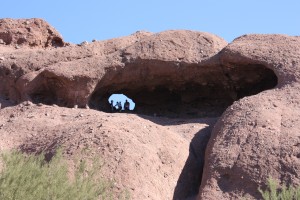 During my few days in Quartzsite a couple months ago, I was on constant lookout every morning for the legendary bighorn sheep that supposedly visited their favorite watering hole at a certain time every morning — never saw them.  Imagine what a thrill it was to see them right in the middle of a major metropolis!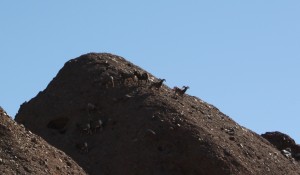 I actually did almost break into a sprint when I saw them.  Soon after my labors I realized they really weren't going anywhere.  After all, they're part of an exhibit — just like these giraffes — at The Phoenix Zoo.  I felt a bit foolish, to say the least.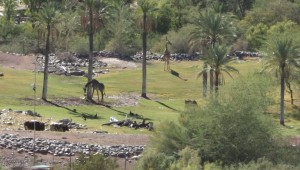 Hunt's Tomb.  Memorials generally don't excite me a whole bunch.  I have even less interest in politicians.  But Hunt's Tomb is a shiny pyramid, after all — and I love shiny things.  I know little about Governor Hunt's term in office yet.  However, one thing thing in his biography that sticks out to me is the fact that he actually lived in a cave in Globe, Arizona — and then became president of a company 10 years later.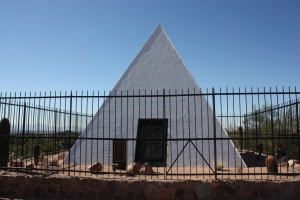 The tomb is also home for his wife, some extended family and, oddly enough — a handful of other governors!
And now — more palm trees…