Click Any Photo To Enlarge!
Where I'm At: Redding, CA
Campground : Sacramento River RV Park
"Working"
I've been pretty busy at the local poker rooms the last few days.  I've started on a 7-session win streak and am making a decent wage at the moment.  The downside is that I've allowed it to interfere with "me-time" quite a bit.  Not 14-hour work days, mind you (in fact, I've only worked 15 hours total), but rather two short sessions each day — one right around lunch and the other around six.  After you factor in drive-times and waiting on a seat to open up, this eats into a good chunk of my day.
Therefore, yesterday I vowed I'd only play in the evening and enjoy an entire day at base camp. And I did…

The Travelin' Mushroom Business
I began the morning socializing with an couple caddy-corner from my site.  It was a fascinating conversation.  They told me that years ago they stumbled onto a business opportunity that allowed them to travel and make good money.  Buying mushrooms.  This is how I understand it:
1.  Different mushrooms are seasonal and thrive in different regions.  Pickers and you, the "buyer" follow the circuit.
2.  The buyer (you) develops a relationship with a broker, who sells the mushrooms overseas where it's a huge delicacy (sometimes hundreds of dollars for one mushroom during a scarce season).  The broker fronts you the money (and pays travel expenses) to buy the mushrooms from pickers.
3.  The pickers go into the woods and pick mushrooms.  You inspect them, buy them, ship them, and sometimes make up to $1500 per day for a few hours work.  Not bad.  Of course ya gotta know somebody and then train for a year before you get started, but still…
Enough business.  Time for the important things…
The Games Cats Play
I let Jeepers out for the first time.  He'd been outside in his kennel, so he was already acclimated enough with his surroundings.  Jeepers went bonkers — talking, sprinting, rolling, sniffing.  He had a grand time.
And then it was time for his "game." This is how the game works:
Disappear when I'm not looking.
Hide under other RVs and crawl through as many cobwebs as possible.
Wait for me to search the entire park, then sneak back and wait for me.
Act as if he'd been there all along as if I were the one that was lost.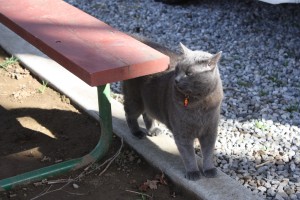 Scooter Ride
It's been days before I actually got the scooter out. Of course, not being street legal without tags in California, I couldn't stray too far, anyway. (Nevada doesn't issue tags for 50cc's so there only certain states I can ride it).
But what I discovered is, scooters are fun enough simply zipping around the park. Whenever I get a little stir-crazy I can quickly break up the monotony and explore my surroundings for 10 minutes with no trouble or effort!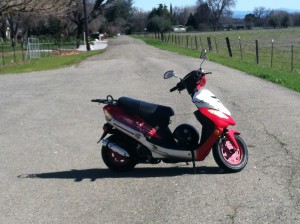 The Cove
I had to get down to that little cove off the Sacramento river. I didn't even bother grabbing my chair and, before you know it, I found myself on the pier with my shoes and socks off.  The water was pretty cold, but very pleasant.
(It also seemed to magnify my very long toenails.  Who knew I needed to clip them?  I need a manager for this sort of thing)!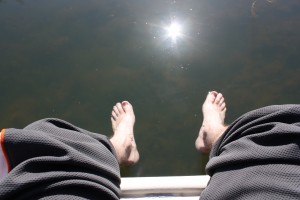 The wildlife is abundant here, even in early March.  Herons, hawks, vultures, frogs, schools of fish jumping out of water, damselflies, and a large variety of birds.  These sounds are quite inviting when you've spent the last few years in the stillness of the desert!  I soaked it all in for a long while.  I'd read a bit, observe nature, then repeat.