Current Venue:  Tempe, AZ (Phoenix Area)
Campground: Tempe Travel Trailer Villa

Click Any Photo To Enlarge!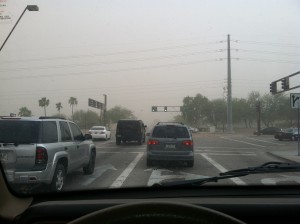 No it's not rain or fog.  It's the edge of a dust storm (normally you would see mountains here).  Before heading into the abyss I stopped at a gas station and talked to a gentleman that just came out of the storm.  He said it's only about 5 miles deep and visibility isn't quite as bad as it looks.  He was right, but it was still very impressive.  Unlike the one's I'd encountered in Nevada, which were brown in color and zero visibility, this one had a strange bluish hue to it.  Apparently that's because the dust storms in this area are pushed by rain storms…
August is apparently the worst of "monsoon" season in this area.  I almost had to laugh when I initially heard that, because I incorrectly assumed monsoons were somehow associated with constant and heavy downpours — like Mississippi in the spring.  Not so.  It has something to do with dewpoints that create these occasional weather phenomena like duststorms and/or flash flooding. (You can also see some really neat pictures of dust storms engulfing the city from the air at this link).
I'm staying a few weeks, at least until September 10th.  After taking a week to figure out the poker scene, I decided to take a monthly rate from which the manager deducted the 6 nights I'd already stayed at full price — how could I turn that down!  Financially, I have a number in mind as far as where I'd like my savings to be when I depart, and this should give me enough time to do that.  Also, a lady in Reno may be interested in Jeepers, and I didn't want to stray east any further before we decided if I was going to make the trek up there.
I didn't get the gig in Minnesota.  I'm officially a full-time poker player again at the moment.
I'm hitting the gym again.  I have a great gym.  I'm also watching my diet and plan to shed a few pounds before I leave. My knee keeps getting better as I'm spending a lot of time at the pool and keeping it wrapped up.  I hope to do a day trip to the zoo when it gets well enough.
But I guarantee I'll be well enough to go to another ball game — this time the Phoenix Cardinals vs. the Seattle Seahawks on September 9th!
Next Story: Memphis Red, 48 Ugly, and the Crash-Test Dummy