Current Venue:  Tempe, AZ (Phoenix Area)
Campground: Tempe Travel Trailer Villa

Click Any Photo To Enlarge! " * " Denotes A Definition Available on the Common Terms Page
My past 3 days "off" have kind have blurred together.  Tuesday was all about errands, reorganizing, and defrosting the freezer…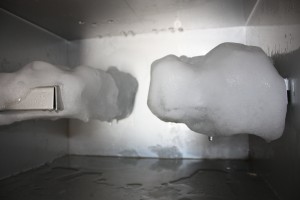 The past couple days have been about distributing my business material to some of the RV resorts in Mesa.  I must admit I got a little sidetracked in the beginning.  First, I toured a few models at Camping World.  It's been years since I've actually done this.  Back then I found most of the floor-plans flawed in one way or another.  The most noticeable improvements these days are the bathrooms, closet space, and the addition of real desks.  I'm actually excited about the possibilities when I'm looking to upgrade in a few years…
I then ended up at Superstition Ranch Market.  I was in disbelief at what I saw…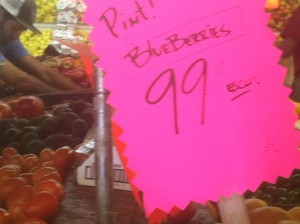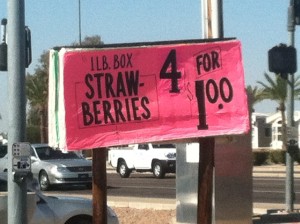 And these weren't just loss leaders.  Their prices are ridiculously low!  The little store was abuzz with energy — packed.  I'd guess about 80% of the stock is locally produced, and the stock-boys work frantically to keep supplies replenished.  Here's the problem, however:  You might as well fill your shopping cart, because the lines wrap around half the store!  I wasn't willing to invest the time.  I had work to do.
And so, to conclude day one of my "networking' adventure, I ended up in the highlands of the Superstition Mountains.  Oops!  But how could I resist?  Breathtaking scenery and 40-foot cacti!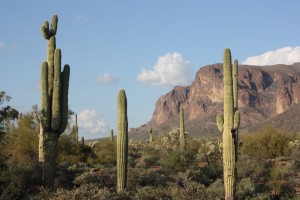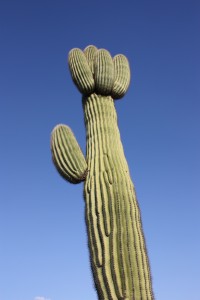 Be sure to wear your hiking boots, however.  Rolling an ankle would not be difficult on this trail.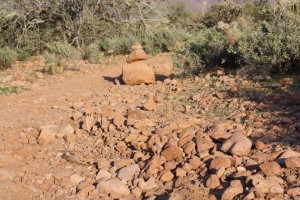 Ok, back to work yesterday.  The resorts seemed pretty receptive and I'm rather hopeful that I can get this little business idea off the ground.  I think I also made a good contact with an RV dealers that's looking to spice up her events at these very resorts.
I was in awe of these upscale 55+ communities.  They are clearly for people with active lifestyles.  From 10 am til 3 pm, every activity hall I dropped in on had one large event or several smaller ones going on simultaneously.  What fun!  Here's a small sample of the last one I went to:
As you can see, these folks select an event and ride their bikes there.  This is an actual softball game against a rival resort…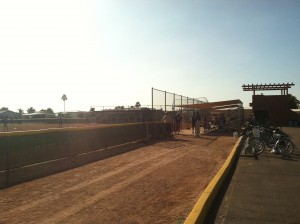 The tennis courts…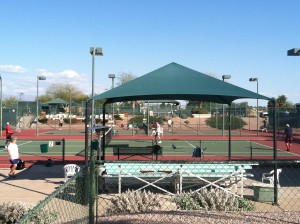 And happy hour with live entertainment…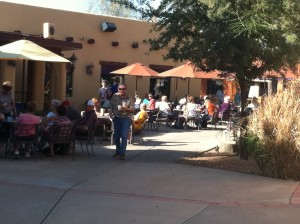 I'll be working on the tour guide project for the next couple days.  I may also be taking Jeepers to a potential home tomorrow.  I hope to really sorta' have Sunday off…