Current Venue:  Tempe, AZ (Phoenix Area)
Campground: Tempe Travel Trailer Villa

Click Any Photo To Enlarge!
When I first arrived in Phoenix I kind of knew I'd have to stay a few weeks to meet my financial goal of adding $1000 more to my savings than I had when I left Las Vegas.  In fact, now that I'm seemingly playing poker for a living again, I'll have similar goals from venue to venue.  This particular one is tough.  With the exception of one casino, all the cardrooms are 40 minute drives from me, and from each other.  I'm spending a fortune on gas.  I'm also paying a fortune in "rakes", the casino's commissions — perhaps the worst in the country.  It's a challenge, to say the least.
But my figuring is if I can make it here on my limited resources, I can make it anywhere!  I feel, for this reason, that Phoenix is an important stop for me.  Currently I'm on target to hit my mark by September 10th.  If I do, I'll have a renewed confidence when I hit the road, again.
But I wasn't sure I could stand the heat when I first got here.  With temperatures in the 100-teens everyday for awhile, my A/C would still occasionally trip the circuit, despite learning to keep it on the warmest setting.  When I examined the circuit breaker awhile back in Las Vegas, it appeared my air conditioner was on a 15-amp breaker rather than the 20-amp.  It seemed the lights and the A/C needed to be switched — if, in fact, the right gauge of wires were in place.   Not knowing anything about wiring, I finally broke down and hired an electrician to do the switch a few days ago.  I breathed a sigh of relief when he assured me I was correct, and he switched the A/C over to the right circuit.  Since then, I'm pleased to say I'm staying cool in one of the meanest climates in the U.S. — Phoenix in August.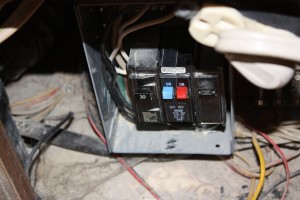 Another home improvement I've made recently is my television reception.  I'd mentioned in a previous post that I'd always accept my fate from park to park, and consider TV programming to be part of the adventure.  Well, during my long stay in Vegas, having only one channel got to be quite a drag — particularly on super-hot days where the coolest place in the trailer happens to be the bedroom right in front of the TV.  And it wasn't until near the end of my stay there that I realized other folks without cable were picking up quite a few more channels than I was.
I'd have to get the antenna looked at, particularly with football season coming up…
So, a few days ago I got my new-best-friend Darrel to bring his ladder over and take a look.  When I tried to crank the antenna up, he had to give it an assist to get it pulled up.  He made a couple suggestions.  First, make sure the antenna cable was hooked up to the TV properly (it wasn't), and second — and this worked like magic — spray a little WD-40 on it.  WD-40.  Genius!  And it worked.  I now have about 20 good channels and  the capability to watch plenty of football.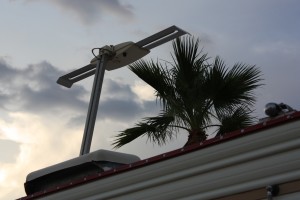 Did I ever mention in a previous post that I have a terrific wall-map on my ceiling above my bed?  This not only covered up some old water damage, but has been a terrific source for hours of daydreaming and scheming.  I love my wall map!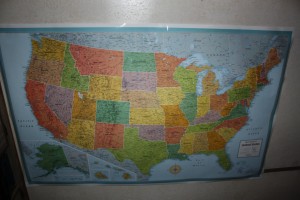 Other improvements?  I'm putting together a halfway-decent set of used tires on the van — 3 different brands, no less.   The van, by the way, has been tagged "Memphis Red."  I haven't gotten the decals together yet, but I know that's the right name for her.  I purchased this beast in Memphis and it just seems appropriate, for some reason.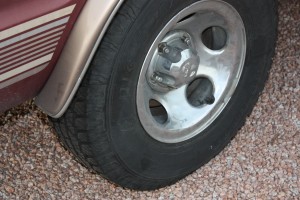 Memphis Red, 48 Ugly, and The Crash-Test Dummy — that's my scooter.
The weather here has been quite tolerable with some overcast weather and even a tiny bit of rain!  Here are a few images as things started to cloud up a bit this afternoon…
Next Story: Urban Traveler