Current Venue:  Las Vegas
Campground: Thousand Trails

Click Any Photo To Enlarge! " * " Denotes A Definition Available on the Common Terms Page
As Las Vegas breaks the June record for temperatures — 117 yesterday — the A/C  seems to be keeping up!  It has a history of overloading the circuit and, even after rerouting some wires (the previous owner had it on a 15-amp instead of the 20), I'd even tripped it 3-4 times in Phoenix when the temps reached 105.  This was partly due to mismanaging how I run the fan — now I keep it on the lowest setting except when I go to bed.  I also attribute my good fortune to my shade tree…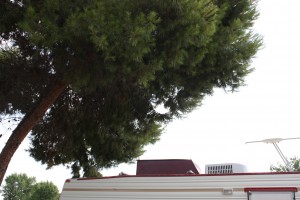 It still worries me leaving Jeepers here during the day. The one neighbor I'd trust a spare key with has moved on, however.  I may make arrangements with the gatekeeper soon.
I've been battling ants!  In fact, only moments ago I was attempting to drown an army in the kitchen sink when 3-4 of them when to work on my fingers.  I just hope the bites don't produce the welts that I found on my feet and legs this week.  They are about the size of a nickel and would be rather unsightly on hands that are constantly on display at work!  These pests do back off when facing chemical warfare but, because I'm simply not able to keep up with the dishes and housework right now, they keep coming back.
And now, for my FEATURE story…
Things are really hopping at the World Series of Poker.  We have  lot of big tournaments leading up to the Main Event.  Yesterday I had the honor of dealing the TV table for the ladies event.  This is quite a feat in that I was selected despite never "putting in" for it.  Usually this is accomplished by submitting paperwork and hoping to be selected.  But I sort of decided last year when I made my comeback to the WSOP that I'd never "ask" to be noticed.
Well, it seems I caught someone's eye — amongst 1600 dealers.  In fact, it's the first time that I recall anyone was ever called out at our large role call meetings to deal a Final Table — usually it's done more discreetly and bureaucratically. It kind of caught me by surprise.
The day got even weirder.  One of the "top dogs", a long-time tournament director, came up and shook my hand as if we were old friends.  This is someone that I barely knew years ago when I dealt circuit events for him around the country. In fact, I don't believe he'd ever spoken to  me more than 10 seconds in previous encounters.  I have no idea what brought all this on…
Of course The Final Table is a media circus — so I got the opportunity to meet some writers.  In fact, I got to meet the king of poker writers, the WSOP media director, Nolan Dalla!  He was more than happy to chat with me about writing careers in poker and gave me some good tips on getting my foot in the door.  He even said to use his name as a reference when I start submitting articles to magazines again (I was very close to getting paying gigs on two occasions and then sort of gave up).   Very cool guy.
And then there was the Ladies Championship Final Table.  The setting is a brightly lit stage with media lining two sides (pounding away on their laptops and taking photos with some of the strangest camera equipment I've ever seen), stands that can seat about 100 rowdy spectators, and a rope on the other side  for standing-room-only spectators.  The announcer stands behind the dealer and calls all the action.  And, with every turn of the card, the crowd goes absolutely berserk as they cheer on their favorite player.  It's quite a scene.
There are 3 Final Table dealers rotating in every half-hour.  One deals, one is on break, and the other is on deck.  The "on-deck" dealer is kind of a gopher for the announcer/supervisor and also escorts players to the payout table when they are eliminated.  I dealt adequately enough.  I was a little disoriented by the blinding lights and awkward position of the shuffle machine, which threw off my rhythm a tiny bit — but other than that I was ok.  A couple times I forgot to position the cards right for the all-in TV moments (you have to bring them in close so the camera can show all the cards at once).
Kristen Bicknell, the ladies champ, was a recipient of her first double-up via Yours Truly.  What that means is that she was trailing the other competitors early on and had to go "all-in"  and double her stack to compete again.  Well, she would come all the way back and win the whole thing a couple hours later.  And then the media circus really began!  Photo shoots, TV reporters, and then a second wave of reporters with voice recorders — what a circus…
A good day.  In fact, while my supervisors are all smiles (for whatever reason), today may be a good day to do some real networking as it pertains to advancement at the 2014 World Series of Poker.  I never wanted to be a "suit" before this year, but I think it's time to cover all my bases…