Current Venue:  Kanarraville, UT
Campground: Red Ledge RV Park
Visiting : Kolob Canyons
Click Any Photo To Enlarge! " * " Denotes A Definition Available on the Common Terms Page
Belated Happy 200th Memphis Red!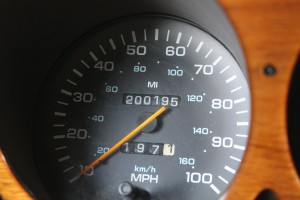 While I was having too much fun here in Southern Utah, I completely neglected this important milestone.  I'm sure she'll be grateful when I fill her tank and wash the windshield tomorrow…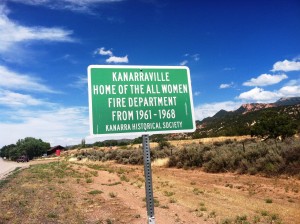 But it would have to wait, as we were off to Cedar City for a ghost hunt in the library at Southern Utah University.  Reportedly several students have been spooked here during off-peak hours, like early in the morning.  This made me a little less hopeful because I felt that young people getting spooked in auditoriums and libraries during the wee hours is probably more of a natural occurrence rather than actual paranormal activity.  My suspicion was not unfounded.  We found very little evidence of a haunting this evening.  But I'd like to thank the Southern Utah Paranormal Society for inviting me and getting to see all their really cool equipment.  One cool toy is this laser grid used to detect shadows..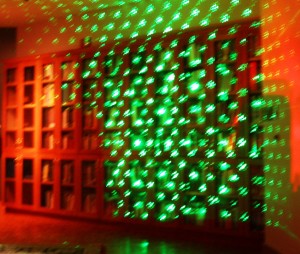 And, if nothing else, we did get to see some really neat artifacts, including a copy of The White Indian Boy, written by our primary ghost-suspects, Howard Driggs.  This was his office…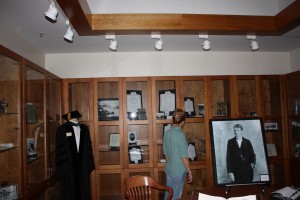 And, while I certainly had a nice time on the investigation, I decided a trip to the Kanarraville cemetery in the morning was in order.  Still no luck.  What can I say, this business is kind of like fishing — hit or miss…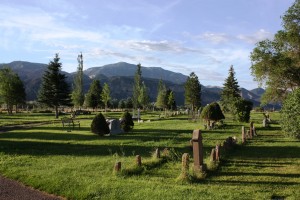 But only an hour later things would pick up.  I was off to Kolob Canyon, less than 10 minutes away.  This is the northern entrance to Zion National Park, and I got to use the same pass — which is good for 7 days.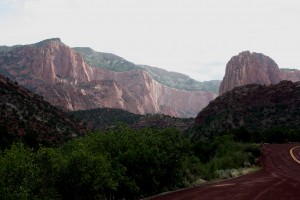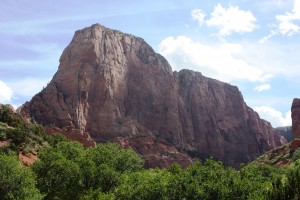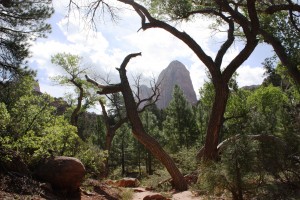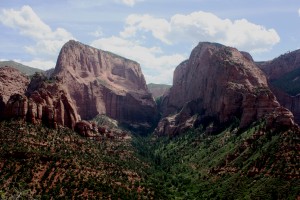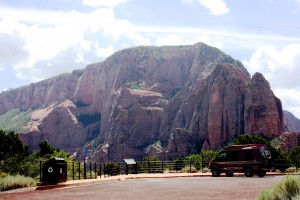 The 5-mile drive to the top of the park was absolutely stunning.  I love the simplicity of this portion of Zion.  There's only 3 trails, no traffic, wide paved roads, and plenty of pull-offs to take pictures.  A terrific park!  The picture above was taken at the top where the 1-mile Overlook Trail began.  I thought this portion of the path was interesting…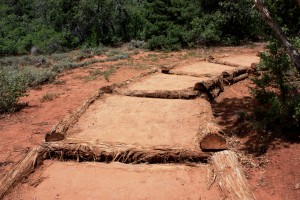 These mountains may be the prettiest I've ever seen.  I love the colors and interesting shapes…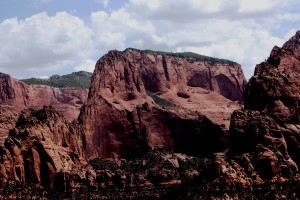 The trail ends at this ledge…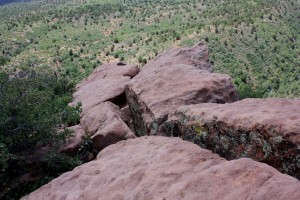 It was on this ledge I must have sat a good half-hour gazing across the canyon.  Here's what I saw…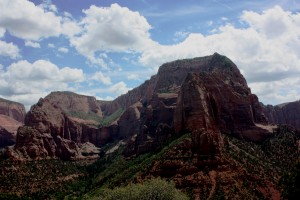 I was absolutely mesmerized by this ridge.  It's difficult to see in the noon lighting, but it begins with a couple cathedral-looking columns on the front-right and then wraps continuously around, creating sort of a "bowl" around a forest valley in the middle-left.  I absolutely couldn't get enough of it — simply magnificent.