Camp:  Redding, Ca     Sacramento River RV Park
It's 11:07 pm and I'm enjoying the strange sound of raindrops on my roof.  I love it!  Having lived in the high desert the past four years, I found myself wishing for rain at my first campground of This Journey.  Wish granted!  Here's how The Ultimate Journey began…
At midnight my cat Jeepers woke me up.  While this is not uncommon, being stirred the night before an exciting trip is the end of me.  True to form, I lay awake for nearly 3 hours.  I took the opportunity to check the weather conditions outside and observed several large patches of black ice.  Easy decision — I turned off the alarm clock and decided to leave later in the morning to give the ice an opportunity to melt.  (My handyman was generous enough to air up that tire last night so I wouldn't have to backtrack).
My struggle prior to leaving was as I expected — sedating Jeepers.  When he traveled with me 3 years prior to landing in Reno, I would constantly have to devise new ways of administering his pill.  The last version was crushing it, mixing it with a sticky nutritional goop, and smearing it on his forearm until he licked it off.  On his stubborn days he'd figure out ways around this — my favorite was waiting until gravity bunched the goop in big gobs so he could just flick it off.  Today, however, I guess because the goop was outdated it simply hardened too quick — so I had no idea how much he'd ingested.  It clearly wasn't taking any affect, though. Getting impatient, I broke off half a pill, broke it again and, much to my surprise — got him to swallow the pill in it's solid form!  Perhaps he's weary of the games, as well.  A pleasant surprise to begin my day.
Next pleasant surprise.  My mirrors.  I'd never used them for towing and it turns out they are situated quite nicely.
But my pleasure would be short-lived.  Right outside of Reno I struggled getting up a couple hills, barely cracking 40 mph.  The thing that really bothered me about that was that these particular mountains weren't so much of a strain a couple years ago when I took this route on my maiden voyage.  The added storage?  The scooter and a couple cinder blocks?  It didn't seem like that much additional weight.  What was happening here?  Well for one thing I didn't allow the van to warm up long enough.
The "good" news is I learned how to downshift my automatic transmission to 2nd gear, when necessary.  And I got better at it throughout the day.  I can't say I'm comfortable with it, but it was necessary.
The first leg of the trip was 81 miles to Susanville.  I pulled into McDonalds to contemplate the next leg.  I was quite tickled that they had reserved spots for RV parking there.  As I chowed down in the restaurant, I tossed around the idea of stopping there for the night.  Two things were bothering me.  One, Jeepers' sedative was already wearing off.  I hate having to drug him twice!  Two, of course, is that I was in no way confident my van could make it's way over the more strenuous elevations.  This was it!  I could potentially damage my vehicle.
But upon finishing my filet-o-fish I had new resolve.  I wasn't going to stall and wait one more day — I was going for it!  I walked over to Starbucks and happened to run into a couple who talked me into taking highway 44 straight into Redding rather than the longer route I'd planned.  They said the toughest uphill battles was at the beginning anyway and, once I got over those — it's the steep downhill grades that worry most RVers.  For my 27-foot travel trailer, that's not as much of an issue.
And they were absolutely right.  The beginning was tough for my rig — 2nd gear got a lot of use.  And the downhill portion was rather easy for me…
But it was an education, just the same.  There's a reason for those 7% grade signs.  It means very little in a passenger car.  But it's way different while towing.  On a couple occasions I was simply astounded at how quickly I started coasting down mountains at breakneck speed if I took my eyes off the speedometer for only a few moments.  You really have to watch it closely!
As I descended into Redding; wind, rain, and traffic would become the issue.  Both hands on the steering wheel, again.
But it didn't take long to find my campground.  I was processed quickly.  I was able to unhitch and hook up in a matter of minutes.  Jeepers was still in a stupor, so I took a couple photographs of the park.  Not a bad start at all, really.  I've got a river, after all.  Granted, there's bit of industry on the opposite shore, but that doesn't bother me in the least.  This is a nice little spot.
In fact, I'm already considering staying a week here.  Redding has always been a poker destination for me, and there's so many attractions here that need to be explored!  Besides that, I really would like to stay in one place a few days to get organized.  And I could save a few dollars, as well.
And now, without any further ado, my first campground photos…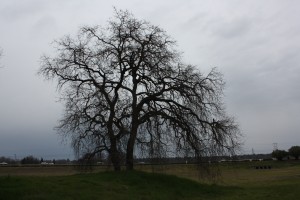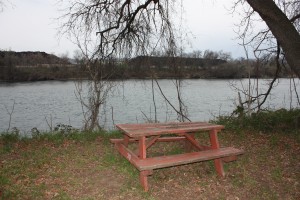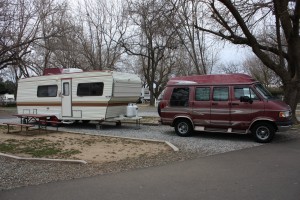 Next Story: Staying Put