Click Any Photo To Enlarge!
Where I'm At: Redding, CA
Campground : Sacramento River RV Park
Restless Night in Reno
It really started last night when Jeepers woke me up. After a couple hours it was clear I was too restless to go back to sleep, so I checked the weather conditions and noticed patches of ice. Easy decision — I set the alarm for later to allow the ice to melt and get some extra shuteye for myself.
My #1 Challenge
I love my cat to death, but I suspected he wasn't going to make it easy. Prior to our RV days, Jeepers must have stayed at a hundred Motel 6's across the nation. He loves the adventure of exploring different hotel rooms and seeing new surroundings.
But despite being a well-traveled cat, he doesn't travel well. In fact, he gets quite violent when we're in motion. During my stay in Reno, I tried my best to find a good home for him — to no avail. Unfortunately, the only alternative now is to continue sedating him for these drives.
But Jeepers is a smart kid — he knows my tricks and has some of his own! For instance, today I crushed his pill, mixed it in a nutritional paste, and applied it to his arm for him to lick off. What does he do? He waits for gravity to push the paste down his arm into globs and flicks it off! I had to get even more creative and, after another hour and a half delay, we were finally able to get on the road.
The Journey
In an effort to avoid steep mountain passes with my little 318 engine, I decided on a longer route to cross over into California. I'd head north to Susanville, west through the Lassen Volcano area, then down into Redding.
Upon departing Reno, I was pleased with my latest replacement mirrors. However, I found myself struggling with hills that weren't much of an issue on the maiden voyage. After running through a mental checklist of what might be wrong, I determined I hadn't let the engine and tranny warm up long enough.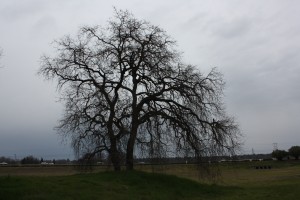 I pulled into a McDonald's in Susanville to let my nerves calm. I was instantly tickled when I discovered parking spots specifically for RVs. And, at that moment, I knew I had finally arrived. It's official — The Ramblin' RiverCat has finally hit the road as a full-time RVer!
In fact, as I munched on my fish sandwich, I seemed to have all kinds of new confidence! Despite Jeepers' dosage wearing off and potential weather in the mountains, I was determined not to bail out and get a campground in Susanville — I was gonna' them hills! I even let an RV couple dining next to me convince me take the shorter, more challenging route…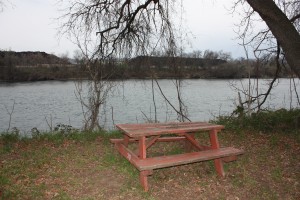 And I think I did okay for a rookie with no experience and the-little-engine-that-barely-could. Granted, I was probably accelerated too hard and downshifted when I shouldn't have — but I managed!
As I descended into Redding, I held the steering wheel tight as wind, rain, and traffic kept me on my toes. But I made it!
Alas, my first campsite on The Ultimate Journey…