Current Venue:  Tempe, AZ (Phoenix Area)
Campground: Tempe Travel Trailer Villa

Click Any Photo To Enlarge!    " * "   Denotes A Definition Available on the Common Terms Page
While I rather enjoyed having grass and a few wildflowers in the landscape, management informed me all the weeds must go. God forbid the new greenery suffocate the gravel.
Off to work.  Here's how you pull weeds in the desert…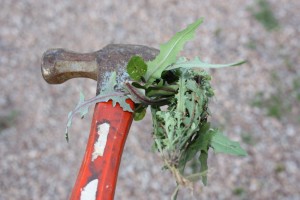 Yes, with a hammer. (This is not deep-rooted vegetation, after all — practically air-plants).  After you yank the weeds, just throw them in a pile…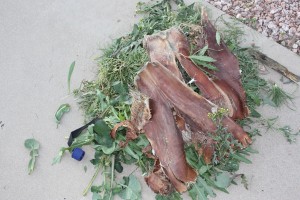 Spray down the remaining weeds with vinegar-water…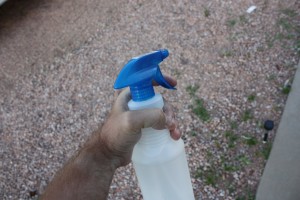 And then, just in case someone questions your commitment to a plant-free environment, leave a little evidence…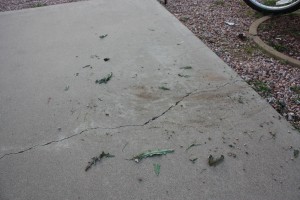 A couple weeks ago I picked up a little hummingbird feeder and some cheap powdered "nectar."  The red liquid proved to be very attractive to me, but unfortunately this hummingbird Kool-Aid didn't attract one visitor.  Per a couple people's advice, I  switched to sugar-water.  Ok, it's not as pretty, but my feeder still makes a nice centerpiece.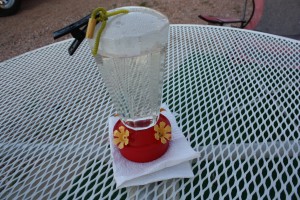 Today I did a little more work on my curtains and added a little color to one of my vents…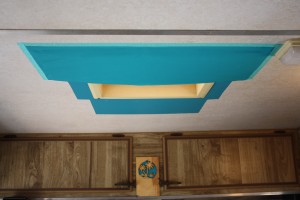 I can't say I wasn't a little distracted though.  It's time for March Madness!  GO DUKE!  (Or any major upset, for that matter).  Now how am I going to focus on baseball?