Current Venue:  Las Vegas, NV
Campground: The Hitchin' Post
Sea Beans?!  It never ceases to amaze me how consistently I run into foods I've never heard of before.  Last night, I took myself out for dinner (a rare treat these days, and not without my 50% off coupon) at The Flame Steakhouse in the El Cortez Casino.   I enjoyed a nice flaky salmon filet on a bed of crunchy green vegetables sauteed in butter.  Although the flavor was quite salty, it really agreed with me, so I had to ask what it was I was eating.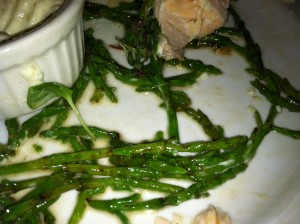 Sea Beans.  My waitress explained it grows in the ocean much like seaweed and is very, very nutritious.  But opinions vary on this matter.  After doing a little research, it more resembles a cactus in it's natural habitat.  I also discovered TGIFridays offers the appetizer version, something I'm very interested in.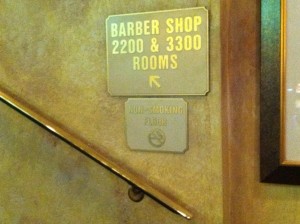 The El Cortez has been around since the 1940's, when Bugsy Siegal was one of the primary owners.  I stayed in one of the original rooms a few years ago and got quite a kick out of it's nostalgic feel.  The rooms were tiny and, well…old.  I suspect much of the furniture is original.  I remember the barber shop just down the hall from me, and that the staircase landed right smack-dab in the middle of the casino floor — perhaps the last of it's kind in today's modern age of super-resorts.
It's sort of a Downtown "outsider" in that it's not part of The Fremont Experience under the big canopy (the tourists don't stray far from the big canopy).  But in another way, it's sort of fitting, too.  I like the idea that this historic casino thrives on it's own, without the benefit of a prime location nor any of the unique attractions that the other resorts offer.
I did have to wander over to the "real" downtown to be amongst tourists for a few moments…
Next Story: Pawn Stars