Where I'm At:  Tempe, AZ (Phoenix Area)
Campground: Tempe Travel Trailer Villa

Click Any Photo To Enlarge!
Wavering Perspectives
Despite the enormity of the events that took place September 11, 2001, I've always considered this country to be extremely fortunate in that our death tolls on U.S. soil have been relatively small compared to other countries.  Take Hurricane Katrina — a jaw-dropping catastrophe in our eyes.  But the death toll was barely a drop in the bucket compared to the tens-and-sometimes-hundreds-of-thousands lives lost in other disasters across the planet.  This certainly goes for war, as well.  I'm not suggesting in any way that the terrorist attacks weren't absolutely horrific, but we "only" lost 3,000 lives.
But then I went to the Healing Field at Tempe Beach Park…
A memorial has been set up here every year since 2002 — the longest-running event of it's kind in the entire country.  Each flag designates a casualty during the attacks.  A ribbon indicates a firefighter…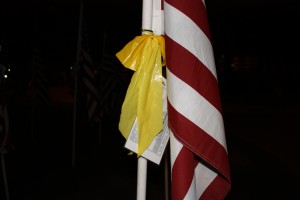 Boots for our soldiers…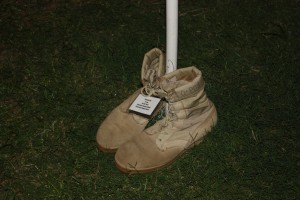 And teddy bears for the children…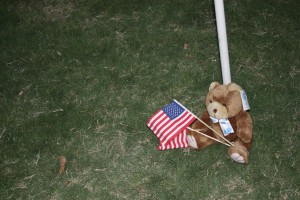 This small sampling gives you an idea of what "only" 3,000 lives looks like…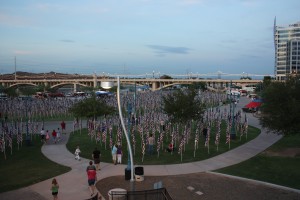 An interesting perspective.
What's also interesting is how selecting random memorials hit so much closer to home than the stories our media coverage selected years ago.  No matter which flag I picked — a unique individual.  It's difficult not to get a little emotional.
The Bridges of Salt River
As darkness fell and a concert filled the air with patriotic song, I took a stroll along the Salt River.  There's no shortage of bridges here.
But this one's my favorite…
The area bustled with activity — walkers, joggers, bikers.  The mood was festive.  The open air felt wonderful along the river as thunderclouds loomed in the distance.  We remember 911.   But I have to marvel at the resilience of the human spirit sometimes — I really do.