Click Any Photo To Enlarge! " * " Denotes A Definition Available on the Common Terms Page
Current Venue:  Tempe, AZ (Phoenix Area)
Campground: Tempe Travel Trailer Villa

In the several months I've been in southern Arizona I've never encountered thunderstorm-type weather for longer than 10 minutes.  Until yesterday.  It stormed on and off all day.  Needless to say, if you know me at all, I was in a very good mood.  And this is why I invented my handy-dandy roll-up curtains — just roll em' up and clip em', no hassle!  Patent pending…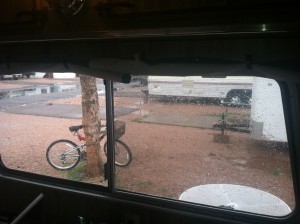 Here's a short video of the hail storm…
My patio in dissaray…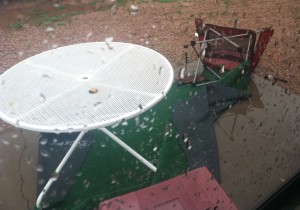 And a palm tree at Cracker Barrel.

I know we had some wind, but I was astonished when Kyra pointed out it was about 100 feet from the stump it was separated from.  Thank goodness someone had the forethought to put cones around it — just in case someone didn't see it laying there.
Of course, I was at Cracker Barrel to meet more RVers.  Originally, I'd contacted Sandie Dixon (couple on right) about meeting her and Jim one day.  But then we kept inviting more people and it sorta' snowballed into a party of 10!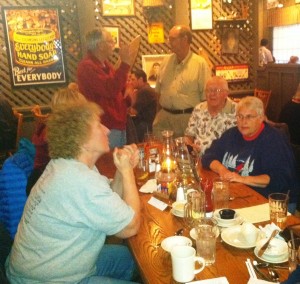 I LOVE Cracker Barrel but I must say the hash brown casserole is my favorite!
Sandie and Jim are going to be here until the end of May, which means I have time to hit Jim up on a fishing trip.  I have never caught a fish on a lure — only worms and stink-bait — and I think it's about time I graduate to "big-boy" fishing.
Standing in this picture is Jimbo and Ray. Speaking of Jimbo, I just looked at his baseball schedule and my busy calendar and discovered there's really only two days remaining in April to do our scavenger hunt hike.  I need to coordinate with him soon.
(I'm also trying to determine where the best trail is to find the gila monster, tarantula, and scorpion.  I did a good bit of research last night and am leaning towards hitting a 2-3 in one day.  To have the best shot at spotting the rare monster, I may have to find Fish Creek bridge a long way out of town on a dirt road in the Superstition Mountains.  I'm probably least worried about finding the scorpion, but the tarantulas stay in deep burrows.  Hm…wish me luck)!
I got to chat quite a bit with Cindy and Ray…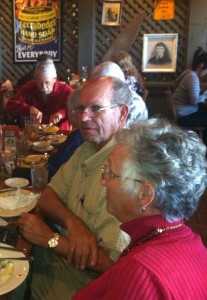 They are brand new "most-timers" that just pulled in from Quartzsite.  They're quite excited about their upcoming Alaskan adventure in which Ray is going to teach Cindy how to catch lots of Salmon.
Well, Kyra is taking off today.  New Mexico.  The consensus among these RVers is that New Mexico is simply awesome.  $200 gets you an annual pass to all the state parks, at which you can stay up to 14 days each.  If you want electric or full hook-ups it's $4-8 per day.  Apparently there are also some incredible RV parks there as well.  Hopefully that's where I'm heading when I get back from Vegas — perhaps en route to work at Amazon…