Current Venue: Coffeyville, KS
Campground:   Buckeye Mobile Estates

Click Any Photo To Enlarge! " * " Denotes A Definition Available on the Common Terms Page
It's been a challenging week at Amazon.  I'm mostly struggling with the overnight sleep cycle.  I also get an uneasy feeling my particular shift won't see much overtime until I leave town during peak season– I may be wrong about this.  I haven't worked for a straight hourly wage since I was a teenager.  It amazes me how all these full-timers invest so much money to work for such a small wage.  I know two incomes, free lot rent, and the suggested overtime may be worthwhile if you already have a pension or savings.  It still makes me scratch my head, though — especially when I see them roll in here in their nice $150,000 rigs.
The good news is my foot seems to be getting better.  Slowly.  Thankfully my job is "stowing" rather than "picking", which is about 10-15 miles of walking every day.  So, once I get used to the graveyard shift, I think it will be very doable.
I spent a little time fishing in my back yard this week…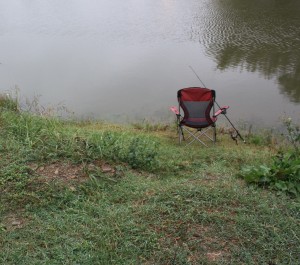 And haven't caught a thing.  Although yesterday, when I switched to bait, I finally hooked a big fish — only to have the line snap when I got it close to shore.  The plan was to fish a bit today, on my last day off, but it was a little wet…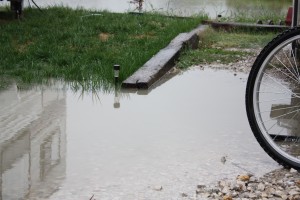 So, I've been brainstorming.  Mostly about backup plans.  While I'm in wait-and-see mode with my summer-job promotion and a January job near Memphis — if one or both of those fall through, I have to seriously consider getting full-time employment for awhile as I finish my training with Kitchen Craft.  I suspect I won't get on the road with them until fall.
Sometimes I just want to fast-forward.  With the all-too-familiar theme of having more expenses than income I want to fast-forward to the fun times of being a full-time RVer minus the financial worries.  You know, when I have to correct people who say things like, "You're so lucky…"
But there are also times when I'm able to enjoy the moment, as well.  Like the pitter-patter of rain on the roof…