Current Venue:  Tempe, AZ (Phoenix Area)
Campground: Tempe Travel Trailer Villa

Click Any Photo To Enlarge!    " * "   Denotes A Definition Available on the Common Terms Page
This past year has been one of misadventure, health problems, and financial despair — a tough, tough start for The Ultimate Journey.  But, here I am, leaving for Vegas in a few days, trained for two marketing/trade show jobs, work lined up for the summer and winter, dozens of resources in my back pocket — and full of hope, again.
My most recent positive note is completion of my first event under the guise of RiverCat Productions .  I'm back in business!  This time offering a full array of special event services including poker, massage therapy, and seminars.  Last night I dealt my first paid poker event — a birthday party.  What great fun!  I meant to get pictures but there simply wasn't an appropriate time to do so.
Instead I thought a shot of my parents might be appropriate…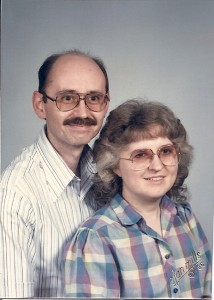 Sometimes I think people throw around the phrase "I couldn't have done it without you" a little indiscriminately…
It scares me to even consider the possibilities had my parents not stepped in after I left the hospital a few months ago.  I have no earthly idea how I would have gotten through it — really.  So, as far as I can tell…
Mom, Dad — Thank You.  I couldn't have done it without you…
HAPPY MOTHER'S DAY!