Current Venue:  Tempe, AZ (Phoenix Area)
Campground: Tempe Travel Trailer Villa

Click Any Photo To Enlarge!
Yesterday was one of those days where everything just sort of fell into place.  I had a good workout, found the perfect birthday postcard for my niece, and then went to the coffee shop and successfully embedded my first video.  While I was at the coffee shop, a potential part-time employer called me unexpectedly and came over to interview me.
So it appears, as my financial situation gets just precarious enough, I'm going to be working a part-time dealer* job at night, a part-time ticket sales job by day and, as I settle into these positions in November — start playing poker* again.  Then, in December, I'd like to get bartending on the resume.  (Somehow).
The ticket sales position is in Old-Town Scottsdale. It's a commission-only for a brand new start-up — bus tours of Phoenix.  Not knowing what the tourist scene looks like in Old-Town during the day, I have no idea what to expect.  It could totally flop — or I could be on the ground floor in an industry I'm very interested in. I really have nothing to lose…
In fact, I'd like to lead the tours at some point.  If not a full-fledged guide later this season, I may be able to convince Jeff to let me lead ghost tours on weekends.   Regardless, Jeff may be a very good contact and seemed  interested in partnering up with me on a pipe dream I had a couple years ago (more on that later).
Who knows.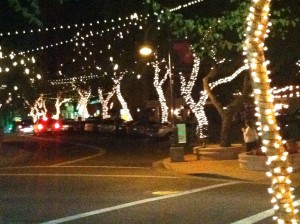 And then the day got even better.  As I was preparing to leave the coffee shop, a lovely new acquaintance of mine suggested we meet, guess where — Old-Town Scottsdale!  A very nice evening.  I regret not taking more pictures but I must admit I was quite smitten with this little "Kitten."  Distracted, to say the least.
Why isn't every day this easy?  If I could just get everything to sort of "fall into place" on a daily basis…