Click Any Photo To Enlarge!
Where I'm At: Reno, NV
Campground : Silver Sage RV Park
Day Trip : Virginia City, NV
The Most Haunted Town in America?
Many "professional" and amateur ghost-hunters alike agree that Virginia City, a former mining boomtown with a violent history, may be the most haunted town in America. In recent months I discovered a fantastic weekly poker game in one of it's famous saloons, The Old Washoe Club, and have been coming here quite regularly. When I ask about the hauntings in this historic town, it seems every player has a tale or two. I quickly had a couple of my own stories to tell…
The Crypt
During one of my poker sessions at The Old Washoe Club, I wandered into the back room of the saloon to use the restroom. At the time it was a very lonely pool hall (it recently became a museum). I heard a rattling sound in the very back. It was coming from the beer storage — otherwise known as the "crypt." Uh oh!
The "crypt" is pretty legendary. It is said that during the boomtown's harsh winters, the ground was too hard to bury the dead so, instead, the bodies were piled into this cellar-type room.
When I made my way to the back I found that the old doorknobs were chained together and padlocked. But were they ever moving! Not only were the doors flapping back and forth (as much as the chain would allow), but the handles were rattling, as well. I couldn't imagine any sort of draft creating this effect. (The bartender would later confirm this was not really possible and that it was always very still).
I'd kept my  camera concealed from my fellow poker players so as not to come across like a ghost-hunting nerd. But I had the battery fully-charged and now I was ready to shoot some video. It froze! The battery indicator said full but before I could attempt anything else it simply shut off. (It has worked just fine ever since this incident and I have no explanation for this).
The rattling stopped. I wasn't able to see much in the crypt except the outline of beer cases. Frustrated, I snapped this photo with my iphone, as well as a few others in the pool hall and winding staircase.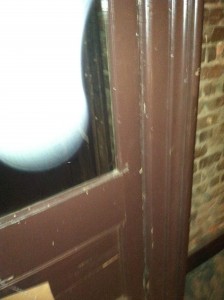 Here's all I know : I'm as much an amateur photographer as I am ghost-hunter. I have no idea what creates this "swoosh" effect. All I can say is every single photo I took that night in the back of the saloon had this swoosh in it — and I've never seen it before or since.
Several weeks after this experience I nearly jumped out of my bed when watching Ghost Adventures on the Travel Channel. On one of their adventures they produced eerily similar images and concluded this was not a camera malfunction. I was dumbfounded. Maybe I had something? Unfortunately, this is the only photo that night that I could dig up. (I'd probably already decided I was just a lousy photographer and discarded the others).
You draw your own conclusions.
Camping at the Cemetery
During another Virginia City poker trip, I'd decided to camp in my van in an RV park across from the cemetery. My bedroom was backed up to a steep canyon that separated the campground from the graveyard. I'd just enjoyed a fantastic evening of winning poker, plentiful drinking, and a wonderfully spooky stroll through town. When my head hit the pillow, spirits and ghost-hunting weren't exactly on my agenda…
But about 2 am I woke up to a dull clanging sound directly behind me. The sound couldn't have been more than 4-5 feet away. The sound, like that of an old cowbell, came in 2-second intervals. I quickly dismissed the possibility of livestock on the other side of the fence because it wasn't moving away in any direction and it consistently rang every 2 seconds. The sound was unnerving because of it's close proximity to the back doors of the van — where my bed was.
There hadn't been the slightest breeze all night and I simply couldn't imagine anything that sounded as heavy as this "bell" could be blowing around in the wind. And besides that — the exact intervals. This haunting felt very "intentional." I fumbled around for my flashlight to investigate. A little spooked, I opted to open the side doors to the van rather than the back to give me a little distance to work with. As soon as I opened the door…
Abrupt Silence!
That's just wrong. Ok, I know this game. The clanging would resume as soon as I close the door — I get it.
I figured as long as I was going to be haunted all night, I might as well go pee first. I made my way up the path to the restrooms. The facilities are well-designed as a hall with 3-4 full bathrooms on each side for maximum privacy. I finished my business without incident, wondering if I'd have enough energy the following day to explore that cemetery. But before I could finish my thoughts and exit the building…
Clang! Clang! Clang! Clang!
The hall filled with sound, reverberating off the walls. A little bit fearful at this point, I flipped the light switch off and on a few times real quick. Abrupt Silence. I fled the restroom and never heard from the spirit, again. I even managed to fall off to sleep, eventually.
The next day I decided to explore the cemetery. Interestingly, it's segregated in some places by such things as nationality or job description. Just out of curiosity I wanted to see what section was closest to the canyon separating the graveyard from the campground. I admit there's not much logic to the theory that the spirit haunted me because he/she had the shortest commute — but I just had a hunch it would be something interesting. Firefighters.
You draw your own conclusions.
Orbs
On this trip to Virginia City, I brought my friend Karen. Now, again, I'm a complete amateur when it comes anything photography, including image analysis. But on a guided ghost tour Karen caught this image. I assure you none of these circular objects were visible to the naked eye. Dust? I just don't know…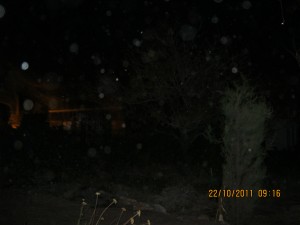 On this same night we went to the cemetery and she captured a similar photo…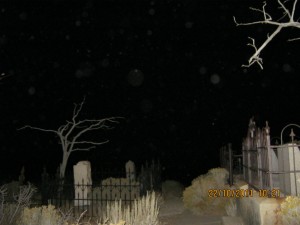 In this instance, there were fewer people trampling around to possibly kick up dust. In fact, we were the only weirdos visiting the cemetery during the wee hours. I can neither prove nor debunk the possibility these are spirit-orbs.
On this occasion we didn't really experience any phenomenon in the cemetery. Instead, we were transfixed on the light display in the sky! A trio of lights were zipping around nonsensically (sort of like bugs in flight) in the distance  and then, when they slowed down, these "glowing clouds" would surround them .  I thought I was imagining the glow, at first, but Karen quickly noticed it, too!  This is nothing like I've seen described on television as either a UFO or otherwise. I can't even draw any conclusions. Unfortunately, neither one of us could capture the images on camera because they were too far away.
Demon-Cat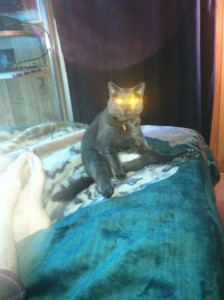 Did I capture an "orb" hovering above Jeepers head?  Do ghosts haunt old campers?  Is my cat really a demon? Am I just a lousy photographer?  I have no clear evidence to either prove nor debunk any of these theories.