Current Venue:  Tempe, AZ (Phoenix Area)
Campground: Tempe Travel Trailer Villa

Click Any Photo To Enlarge!    " * "   Denotes A Definition Available on the Common Terms Page
We've had a few good years.  Now it's time to say farewell…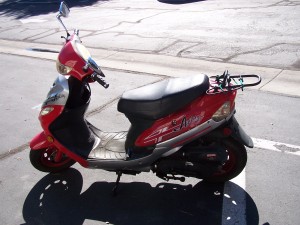 We had so much fun.  Crash-Test Dummy made life tolerable in Reno — I took it everywhere.
And LasVegas.  How much fun was it during my extended stays there!  I can't think of a more suitable vehicle for scooting around from casino to casino and navigating super-resort parking lots and garages!  A perfect fit.  I don't know how long I'll be able to manage Vegas without scooter…
I had big plans for Crash-Test Dummy.  I'd even modified Memphis Red* to accommodate the little 50cc on The Ultimate Journey.  But alas, things happen…
With no registration or tags, it wasn't street-legal in California.  So, I rode CT around in the campgrounds — good times, nonetheless!  In Vegas, a blast as usual — but I had my second nasty wreck — putting us both out of commission for awhile. Incredibly, as beaten up as CT was, it still ran!
Finally, here in Phoenix, while attempting to tighten the dangling left brake lever, I broke it off completely (see, this is why I don't try to fix things).  It sat during the winter months.  Then I finally located someone that could fix it — sort of.  After the lever was replaced, it wouldn't start!  They pointed out a piece of the carburetor was broken (unknowingly from the last wreck but it still ran) and that I'd have to replace it — another $100 after labor.  Unconvinced that was necessary, I tried again to fix Crash-Test Dummy myself — this time flooding it with starter fluid.
And, just when I started having visions of having her up and running by the time I got back to Vegas… just when I started having aspirations of scraping up a hundred bucks to maybe get it fixed…
A neighbor knocked on my door and bought it!
New beginnings.  When I start getting my paychecks in Vegas, I'll be on Craigslist looking for a Honda.  No worries, I'll be back in business soon enough…