Current Venue:  Las Vegas
Campground: Thousand Trails

Click Any Photo To Enlarge! " * " Denotes A Definition Available on the Common Terms Page
Well, we were entertained…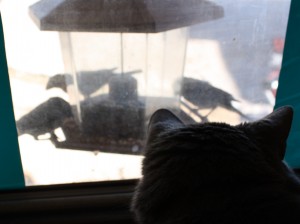 But our strange little bird family, exactly 3 sparrows and 3 pigeons, made quick work of a gallon's worth of birdseed.  These guys utterly ignored Jeepers through the glass, a direct blow to his ego no doubt.  I'm not sure I'll continue to support a family of eight — it depends on my mood next trip to Wal-Mart.
Things are still going smooth and easy at work.  For any poker fans that may be interested, former world champion Greg Raymer paid me a nice compliment on my dealing.  He's one of the nicer professional players — it's a pretty short list.
Yesterday was the Seniors' event.  It was the 2nd-largest gathering in the history of poker, accommodating about 4300 players on the same day (the first round of the Main Event is done on separate days).  The largest one ever was the new Millionaire Maker, a day I was scheduled off and was in the middle of laundry when they tried to call me in.  But there's little doubt I'll be a part of more shattered records.
Today is the 5th day of my 7-day stretch.  At this rate things will move along quite quickly.