Click Any Photo To Enlarge! " * " Denotes A Definition Available on the Common Terms Page
Current Venue:  Tempe, AZ (Phoenix Area)
Campground: Tempe Travel Trailer Villa

After a frustrating morning applying for financial aid at a so-called "free health clinic" all morning yesterday (and getting nothing done), I became alarmed at a new symptom I discovered after my week-long ordeal with what I'd originally thought to be inflamed lymph nodes in my groin.  I called a hospital and explained my borderline emergency and current inability to pay.  She gave me the numbers of some providers that "might" be able to work with me.  I felt time was running out — I took the first available appointment I could find.  No sliding scale, no payment plans available, of course.  I bit the bullet and forked out $75 for a 2-minute examination in which the doctor immediately diagnosed me with a life-threatening condition!
I managed to find someone to take Jeepers off my hands, and off to the emergency room I went!  The good news is that I was misdiagnosed and would not require major surgery.  The bad news is I had a large abcess and a serious infection.  I spent the next 6 hours in a hospital bed…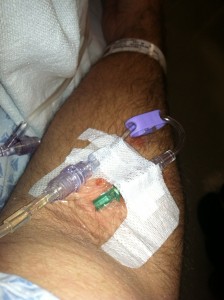 I cannot describe the pain suffered during my procedure.  Just imagine the most sensitive area on your body trying to explode — so sensitive it would burn ferociously to even the slightest touch.  Then a doctor then injects you in that very spot with a long needle —  four times.  According to him, this torture was to HELP with the pain!
I'm going to spare my readers the carnage that followed.  Suffice it to say, it was a very nasty business and I was very grateful when it was all over…
Not so fast!  I was then informed that the ball-of-gauze-string that had just been inserted into my body had to be replaced in a couple days — and then possibly replaced again a couple days later!  This may be a very long week.
But there's always a silver lining.  While waiting on my prescriptions to be filled, Disabled RiverCat got to zip around on a handy little scooter!