Current Venue:  Tempe, AZ (Phoenix Area)
Campground: Tempe Travel Trailer Villa

Click Any Photo To Enlarge! " * " Denotes A Definition Available on the Common Terms Page
I noticed a couple weeks ago the paneling on the outside of my door was coming off.  Upon closer inspection last week I realized the trim was also coming loose.  I spotted a couple loose screws and put it on the list for yesterday thinking it might be an easy repair for the not-so-handy RiverCat…
But I had an uneasy feeling right from the get-go.  All the screws on the bottom of the trim were completely loose.  I knew it would be a futile effort, but I tried screwing them back in — to no avail.  I suspected dry rot.  I asked my neighbor early this morning if he was interested in a "small project."  Herb — my new best friend.
It was clear to us pretty quickly that we were going to have to remove the door and take it apart.  Here's what we found at the base of the door…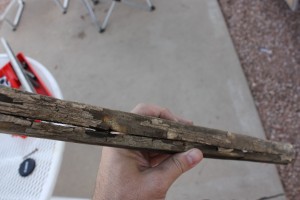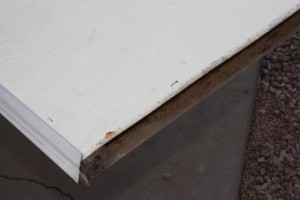 Warped, twisted, bent, brittle, and split right down the middle.  Off to Home Depot as Herb watched over my home-with-no-door.  I had to wait in line a bit to get a new piece of wood cut.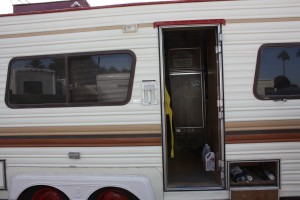 When I got back, it became a race against time.  The morning was being eaten away rapidly, and I had to get the door re-installed before rushing off to work.  The warped piece of wood had to be shaved down a few times before it would fit properly but, other than that, no problems.  We just did get the door reinstalled before I had to rush to work.
I have to be pretty grateful to all my" new-best-friend" neighbors in the past.  I don't know how many times other RVers have come to my aid in the past few months but… a lot.  These efforts aren't forgotten, and I hope I get the opportunity to pay it forward one day…