Current Venue:  Petaluma, CA
Campground: Petaluma KOA
I mellowed out a lot yesterday.  I took it slow, beginning by sleeping in until 8:30 and playing on-line poker til 12:30.
I reviewed the day before, realizing I would simply have to take more steps to making travel easier.  For trips over 200 miles, I'll have to give Jeepers a slightly larger dose of medication to give me a small cushion of time to work with.  I'll need to over-inflate the tires regularly until I get new ones.  I'll need to monitor the tranny, suspension, and really get to know this vehicle so I can maneuver within it's limits — at least as best I can.
And I need to learn how to back it.  It's time.  I can ill-afford to run into trees on a regular basis and, even though I'd decided I'd only use pull-through sites the first couple months, there are going to be other situations that may call for using reverse — like after taking a corner too sharp and hitting a tree.  That was quite a jam I was in (I'm sure I'll look back and laugh one day).
For my day trip, I'd sort of intended to visit the vineyards but ended up in downtown Petaluma, instead.  First I stopped at the factory outlet mall and found several items I'm going to purchase if I come out ahead playing poker the next couple days.  Then I had a terrific stroll.  I don't want to say downtown is quaint — it's not exactly one little city block.  But I simply love it.  Everything is wide, spacious and bustling with activity.  There's an outstanding bookstore, a 24-Hour Fitness laid out like an elaborate dungeon, all kinds of unique shops, and a harbor.  I had a grand time.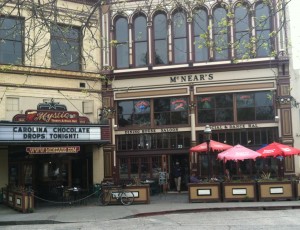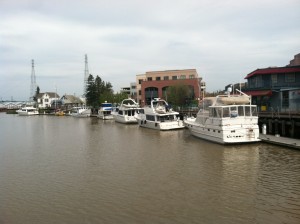 Back at base camp, I hit the pool.  More specifically, the hot tub.  There are well over 1000 campers here Easter weekend.  But there are so many activities here; trampolines, these odd go-cart-looking tricycles, structured activities, petting zoo — and on and on and on — that I found myself at this pool all by myself!  Now that's impressive.
After hanging outside with Jeepers and enjoying a few hot dogs, I went and had a nice win at 101 Casino.  It's safe to say I'll be spending at least one more night here.
Next Story: Wine Country